Are you keeping up with the advancement of Cambium's wireless technology to keep your business at the forefront? In the Wireless/Broadband industry it is important to stay informed and regularly update your certifications to stay fresh.
Take advantage of Cambium Networks' North American Technical Certification Training classes. Gain new knowledge and technical experience from detailed sessions taught by certified instructors. Learn from industry professionals who have built hundreds of networks and can provide you with practical knowledge that you can apply in the field while preparing for your own certification.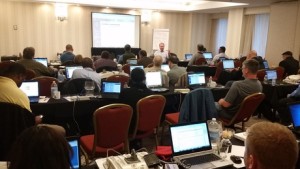 To obtain technical certification, you must pass the corresponding exam with a score of at least 80%. Each training is designed to assist you in your exam preparation.
Schedule of Classes & Registration
Location: Rolling Meadows, IL - Cambium Headquarters
PMP 450, April 13-15, 9am - 5:30pm
ePMP, April 16-17, 9am - 5:30pm
PTP 650, April 20-21, 9am - 5:30pm
PTP 820, April 28 - 30, 9am -5:30 pm
Registration is closed.