Mercury Networks has just released a promotion on their Mercury Networks Quantum 6636 platform. Starting Friday, March 13, 2015, we will be running a promotion on two versions of the Mercury Networks Quantum 6636, the 6x6 and the OmniWave products. In an effort to simply ordering there are only two part numbers, one each for the 6x6 and the OmniWave product. Within each part number, all 5 components will be included.
Included Parts in Kit
1. Quantum 6636
2. Antenna (either 3 2x2's or the 6x6 panel)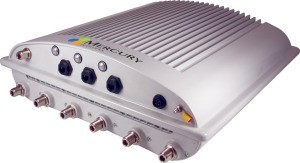 3. GPS Antenna
4. Surge Protection
5. Pole Mount Kit
The all in price to the Operator (Wireless Service Provider) is $9,995
Promotion Period: March 13, 2015 to April 15, 2015
Mercury Networks Quantum Base Station Highlights:
Increased Cell Range

Up to 6Rx and 6Tx antennas
Increased uplink sensitivity
Unique support up to 24Km with standard based WiMAX CPE
Future Proof

SDR architecture
Over-the-air field upgrades
Mobile WiMAX (802.16e) Compliant

Available Stand-Alone Mode
Can operate without ASN-GW
Reduced core network costs
UL sub channelization, HARQ, MIMO A+B, CDD, Multi QoS levels
Centralized CPE provisioning via AAA server
Channel Size: 5 MHz, 7MHz & 10MHz (3.5 MHz future SW upgrade)
Supports up to 200 simultaneous connections
Ease of deployment

Deploy on towers, utility poles, walls and roofs
No shelter or air conditioning needed
Requires only power and Ethernet
Can be deployed by one technician in two hours with no special equipment needed
Mercury Networks Quantum 6600 is Ideal For:
Delivering maximum coverage in rural markets
Covering vast distances in sparsely populated rural areas.
Providing advanced services in non-line-of sight conditions
Maximizing coverage and service levels in difficult or hilly terrain and through dense vegetation.
Maximizing in-building penetration
Delivering superior broadband services to USB and desktop-type user devices, even when located indoors.
Cost-effective macro cells
Delivering macro base station performance, without the need for a climate controlled shelter and at a fraction of the cost.