After a year of careful planning and development, DoubleRadius is excited to introduce the launch of our new website on July 15th, 2020. We'd already upgraded our site to be completely secure (https) and mobile (responsive) in recent years. This time, our team set out to establish our new web presence with three major objectives, all of which are outlined below. The common thread throughout the project was designing a website that better serves and supports your needs.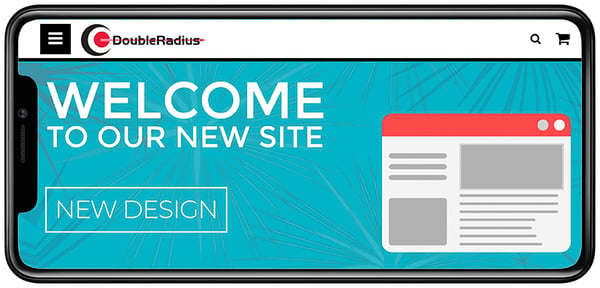 1. Display Stock - New Feature
We heard you loud and clear! A common request from our previous site, we now display inventory stock levels of our products online. We believe this will go a long way in providing reassurance on your orders, including those on-the-fly circumstances.

For products not in stock, you'll see other helpful notes such as:
Please Call for Availability
Now Available for Pre-order
Ships Directly from the Manufacturer *

* This should be helpful as we continue to expand with more new vendor offerings, in our ever-changing industry. Seeing this message requires being logged in.
2. Keyword Search - Improved Feature
Improved keyword search in our new site means you can now use everyday terms and still achieve good search results. Sure - you can enter exact stock numbers. And you'll see matches appear in the search as you type. But that's the last thing you need when browsing our site over a late night snack, or from a customer's roof!
For example, entering the term "Air Fiber" into the search field will return all the products and accessories related to Ubiquiti's AirFiber line of products, despite that not being an exact product or description match. While the change seems small, we believe this will make for a significant improvement in your experience using our site.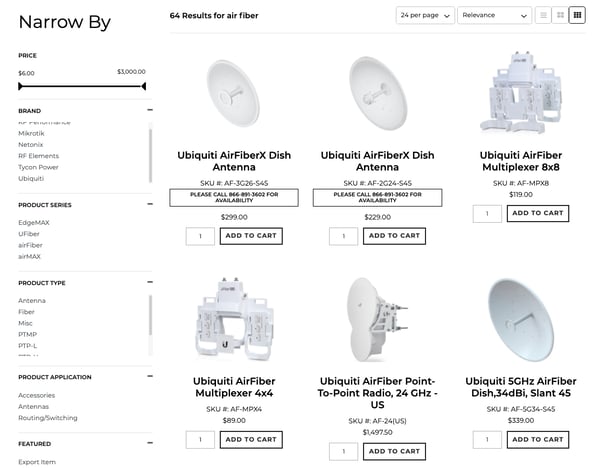 3. Dynamic Navigation - New Feature

Perhaps the most noticeable technical advancement in our new website is the dynamic or "faceted" navigation. This now allows you to sort and filter products and accessories instantly, altering the search results dynamically based on attributes such as:


Price Range
Brand
Series
Type
Application
Featured category
For example, under Product Application, you can click Point-to-Multipoint to see all products that can be applied in a PTMP scenario. Filter further to see only items from a particular manufacturer like Cambium, and a specific series such as PMP 450m. Then adjust the price slider to a specific price range. Additional options allow you to narrow your search even more until you have what you're specifically looking for. This product sorting and filtering process is consistent with leading e-tailers, and will make finding and purchasing items easier.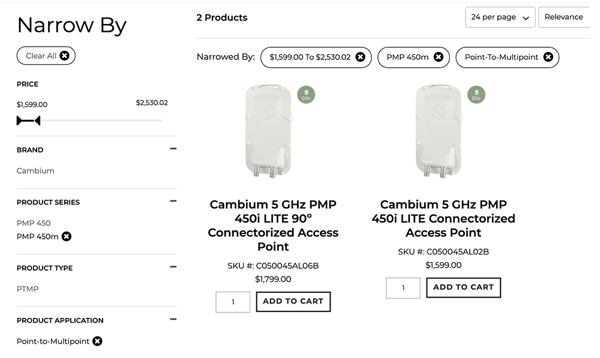 Check Out Our New Website Now!
These are what we consider to be the top three improvements of our new website. There are many more updates that we believe you'll also enjoy. Please take a little time to explore our new site, and give us your much-appreciated feedback on our website survey after your visit.