What do you do when you realize your web experience doesn't fully deliver the customer experience you're striving for? 1) Listen to customer feedback. 2) Assemble your internal team. 3) Commit resources. 4) Select a quality development partner. DoubleRadius launched our new and improved website platform in July of 2020, and has continued to roll out new features and enhancements since. Originally posted on 7/22/20, this article was updated on 2/19/21 to reflect the full list of improvements since our new website launch.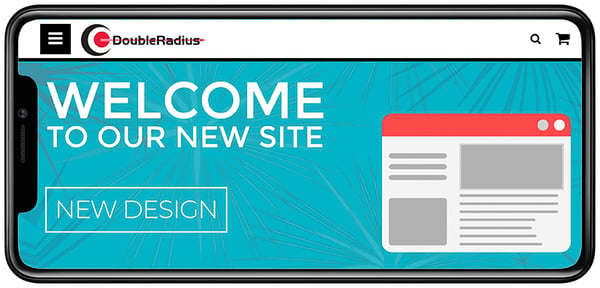 Update: Latest Website Improvements
Two years ago, we realized that an overhaul to our website was in order. We recognized that our web content and store experience didn't fully deliver the value we were striving to provide to our customers. When we launched our new website platform in July of 2020, it featured significant enhancements. But we continued listening to your feedback, leading us to make another set of improvements during the Dec. 2020 - Jan. 2021 time frame. If you haven't visited our site recently, be sure to check out these features on your next visit.
1. Convert Quotes into Sales Orders
When our new site was launched, we added the functionality for requesting quotes through the website (read more in #4 of the bottom section). A related new feature as a part of our recent roll outs is the ability to convert quotes that are approved for purchase by your DoubleRadius sales representative into Sales Orders! This adds a new level of self-service and control over your ordering that was not previously possible.
Click on 'WELCOME [YOUR NAME]" IN THE TOP RIGHT, then click "Quotes" under "Orders" in the My Account section.

Once at the quote, click "REVIEW AND PLACE ORDER."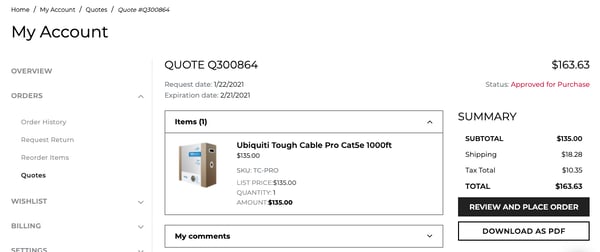 2. New Additions to My Account Section
You now have the added visibility into three new items in your My Account section:
Salesperson contact information
Quotes history
Purchase Order numbers
No more searching through old emails and filing cabinets! Now this important information is easy to find, making your account management that much easier.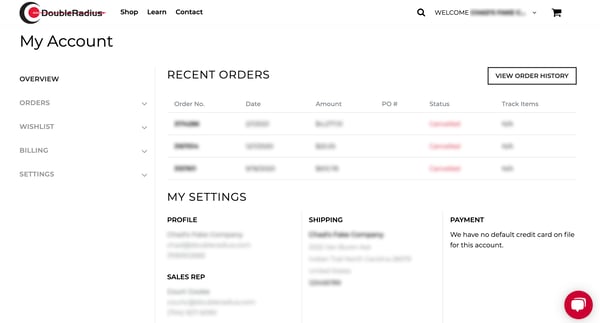 3. Enhanced Search
When our new website was launched, our search was already improved from our previous site. For example, a simple search such for "Air Fiber" returned all the products and accessories related to Ubiquiti's AirFiber line of products, despite that not being an exact product or description match. (Our previous site required more specific searches or part numbers for good search results).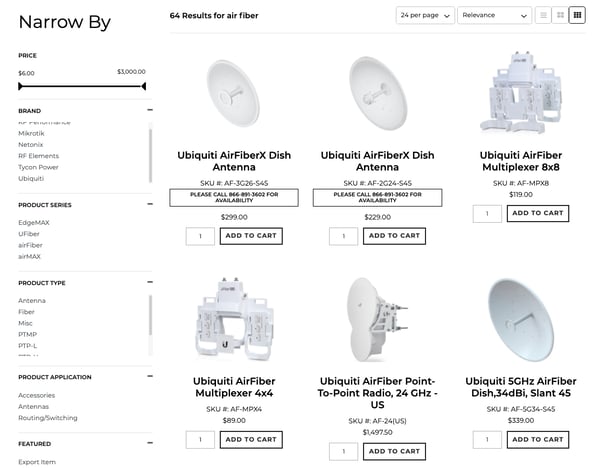 Building on that, our latest search enhancement now allows you to find information on all products and manufacturers on the website. Previously, the search queried only products for sale in the web store. Now, other informational pages throughout the site are included as well. This is especially helpful when searching for information on vendors whose products we don't currently sell in our ecommerce store.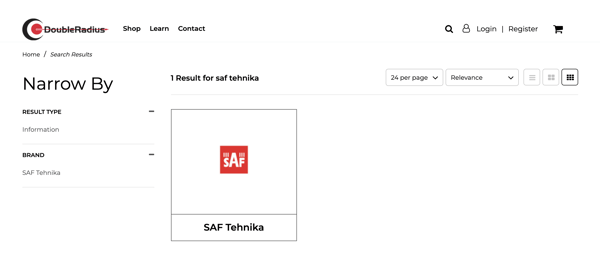 A box will appear in the search results, which when clicked, will go to a vendor informational page with important product important as in the example below: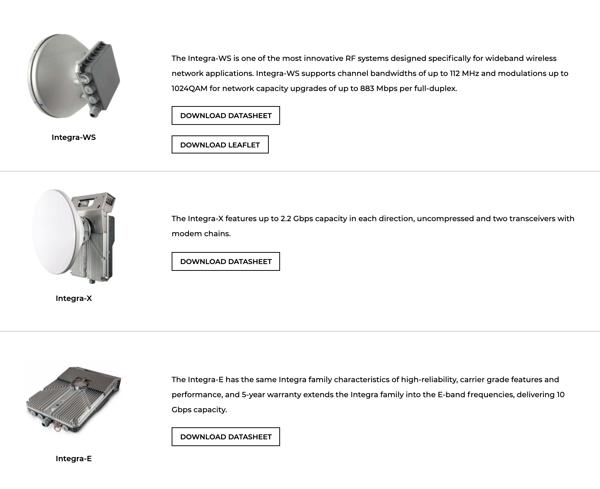 Other miscellaneous improvements include functionality on our home page and back-end updates impacting stock status. While these changes aren't as glitzy as the ones listed above, each one improves the overall quality of the site.
Initial Improvements of New Website
For the initial launch of our new website in July of 2020, our key improvements included those outlined below. The common thread throughout the website redesign project was delivering an experience that better serves and supports your needs.
1. Display Stock
We heard you loud and clear! A common request from our previous site, we now display inventory stock levels of our products online. We believe this will go a long way in providing reassurance on your orders, including those on-the-fly circumstances.
Stock will either show a specific number, or as one of the following when reaching a high or low level such as:
Quantity Available: 100+
Limited Quantities (if we have just a few on hand)
For products not in stock, you'll see other helpful notes such as:
Please Call for Availability
Now Available for Pre-order
Ships Directly from the Manufacturer *

* This should be helpful as we continue to expand with more new vendor offerings, in our ever-changing industry. Seeing this message requires being logged in.
2. Dynamic Navigation

Perhaps the most noticeable technical advancement in our new website is the dynamic or "faceted" navigation. This now allows you to sort and filter products and accessories instantly, altering the search results dynamically based on attributes such as:


Price Range
Brand
Series
Type
Application
Featured category
For example, under Product Application, you can click Point-to-Multipoint to see all products that can be applied in a PTMP scenario. Filter further to see only items from a particular manufacturer like Cambium, and a specific series such as PMP 450m. Then adjust the price slider to a specific price range. Additional options allow you to narrow your search even more until you have what you're specifically looking for. This product sorting and filtering process is consistent with leading e-tailers, and will make finding and purchasing items easier.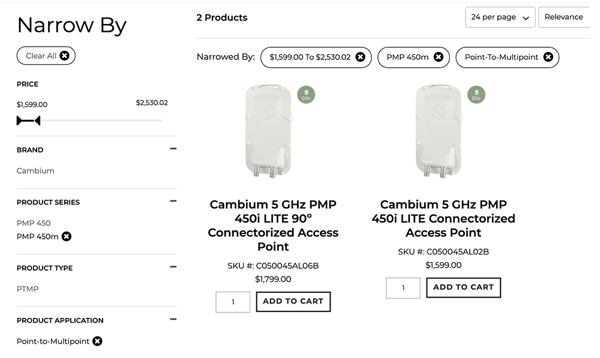 Along with the faceted navigation of the web store, we've also simplified the main (top) navigation throughout our site. We've reduced the menus to three options: Shop, Learn, and Contact. As with the faceted navigation, our aim here was to make it easier to find what you're looking for.
3. Wish List
While shopping, you can conveniently save all items you're interested in to a "Wish List." Just click "ADD TO WISH LIST" and add to an existing list or create a new one.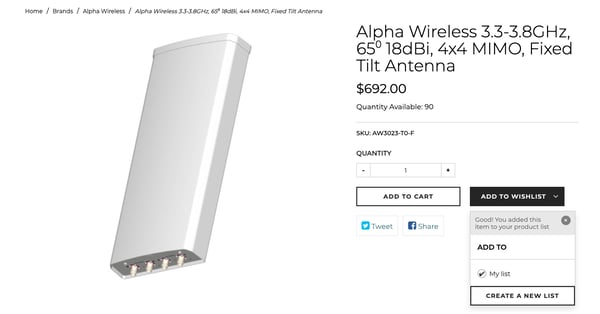 Later on, when you're ready to purchase, you can add them to your shopping cart with just a click of a button. Click "WELCOME [YOUR NAME]" in the top right corner, then click on your list.

From there, simply click "ADD ITEMS TO CART" and proceed to checkout.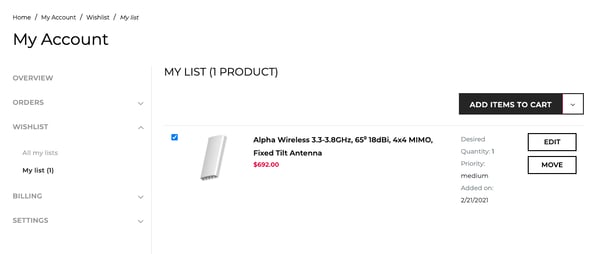 4. Quote Requests
Quote requests can be submitted for items(s), quantities, and shipping. Your request goes directly to the sales team, who then responds promptly for your approval. This results in a faster, more accurate quoting and ordering process.
Start this process by clicking on "WELCOME [YOUR NAME]" in the top right corner reveals the menu in which you can then select "REQUEST A QUOTE." From there, items can be added and a quote request submitted. Once approved, your order can be placed.

Check Out Our New Website Now!
We look forward to the continued growth of the DoubleRadius.com website with your help. Please feel comfortable sending us your feedback, ideas, and, yes - your concerns too! Take a little time to explore our new site, and give us your much-appreciated feedback on our website survey after your visit.