Siklu's E-band mmWave products are the most widely deployed 70/80GHz point-to-point radios in the world. Named their "Kilo Series EtherHaul," these E-band radios offer almost unlimited spectrum for dense deployments, and multi-gigabit throughputs for a variety of other deployment scenarios. This article offers a quick summary of the performance, advantages, and applications of Siklu's E-Band technology.
What is Siklu's E-Band Performance?
Carrier class construction and performance are the hallmarks of Siklu's E-band radios. Kilo Series Etherhaul devices have a small form factor and an all-outdoor IP67 rated system. Its field proven, advanced all-silicon integration is rated to last 90 years. Built on this solid foundation, these units deliver:
Up to 10 Gbps full duplex throughput as far as 4.3 miles (6.9km).
Real time connectivity with <10usec latency, supporting the most demanding delay-sensitive applications.
Optional integrated timing over packet 1588v2 and SyncE with SSM schemes that facilitate reliable, accurate mobile backhaul synchronization.
Prioritized payloads using hitless adaptive modulation synced with 8 levels of QoS.

Spectrum agility is also a major factor. Operation in 70/80 GHz is interference-free, and TDD or FDD is supported. There's up to 10 GHz of available spectrum and extremely narrow beams with a tiny fresnel zone. Additionally, there are up to 32 non-overlapping, user-selectable channels yielding the industry's highest spectrum re-use factor. Lastly, a single SKU supports the entire 70/80 GHz range.
Comparison of E-Band vs. Fiber & Cellular
Siklu's E-band radios are considered fixed 5G mmWave. So how does this compare to other solutions? Siklu created this chart below to highlight the advantages of 5G mmWave compared to fiber and 5G New Radio (for cellular service). As you can see, fixed 5G mmWave (E-band) offers the multi-gigabit capacity and security of fiber, while also boasting several key advantages over both fiber and cellar.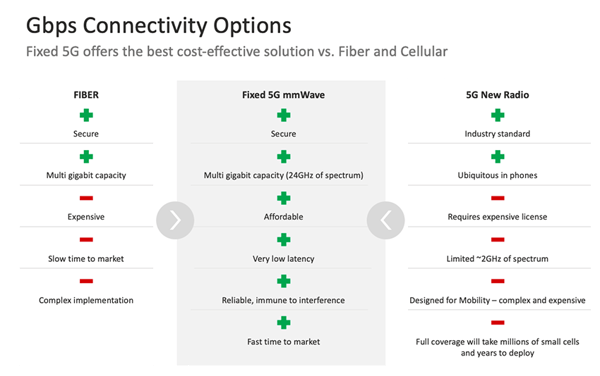 Key E-band Applications
Siklu multi-gigabit solutions include access and aggregation in urban, suburban and rural settings. Service providers and system integrators use Siklu mmWave 70/80 GHz for a variety of applications including:
Business / Residential 5G Fixed Wireless Access
Surveillance Connectivity
Smart Cities
Wi-Fi Backhaul
Fiber Extension / Redundancy
Macro and Small Cell Backhaul
Tens of thousands of carrier-grade systems are successfully deployed and delivering interference-free performance world-wide. Siklu's mmWave radios are easily installed on street-fixtures or rooftops, and the competitive pricing has proved to be ideal for networks requiring fast and simple deployment of secure, fiber-like and future-proof connectivity.
Can Siklu Be Utilized for RDOF?
The Rural Digital Opportunity Fund (RDOF) broadband initiative is "single largest distribution" of Universal Service Fund (USF) monies to service providers by the Federal Communications Commission (FCC). The question is, how does Siklu's E-band solution fit into the RDOF picture?
Siklu's V.P. of Marketing, David Sumi, recently discussed this subject in a telecompetitor article entitled, "RDOF Will Put Gigabit Fixed Wireless to the Test." Sumi first mentioned how Siklu (and other manufacturers) worked with the FCC so that they would allow RDOF fixed wireless bids for the gigabit tier. Secondly, he explained that both Siklu's V-band (60 GHz) and E-band (70/80 GHz) radios can be used utilized. Whereas Siklu sees their Terragraph V-band technology being used in population centers within rural serving areas, Sumi clarified that :


For more remote locations, network operators can use equipment operating in the E-band, which is restricted to point-to-point use...Although the E-band technology is costlier than Terragraph on a per-location basis, it has a considerably longer two-mile range and E-band equipment on the market supports speeds as high as 10 Gbps.
Want More Info?
Has the idea of going multi-gigabit caught your attention? Check out our "Multi-Gigabit Wireless Fiber" from Feb. 2021, in which Siklu expands on the topics from this article. You'll also see illustrated use cases, live polls, and a case study for their Multihaul Terragraph solution. Siklu also provides a product portfolio overview covering their point-to-point, point-to-multipoint, and mesh offerings.