Use of licensed microwave spectrum includes certain key benefits that would improve any network, and make the service provider's life easier. Although licensed is often the best solution for backhaul, price concerns, misconceptions, or even lack of awareness cause some WISPs to deploy only unlicensed spectrum Point-to-Point. So what are the real advantages of licensed links, what do WISPs have to say about them, and what should you look for in your licensed backhaul?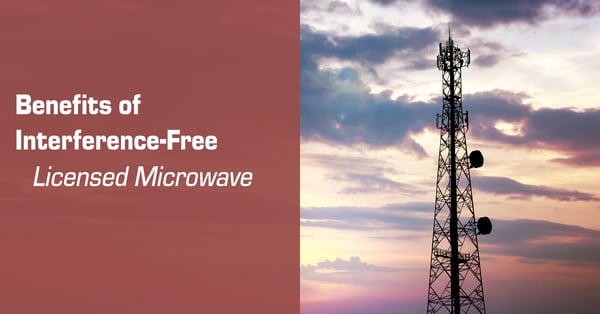 What Makes Licensed Better?
There are generally three main factors that enable licensed backhaul to out-perform unlicensed:
10 Years of Interference Protection
A Part-101 license assigned by the FCC is exclusive to the licensee, legally guaranteeing protection from interference for at least 10 years. In unlicensed bands, on the other hand, it's sometimes hard enough finding clean spectrum to start with.


Greater Security with Data
Licensed links are inherently more secure than unlicensed, with 128 and 256-bit encryption. This is especially important for medical facilities, banks, public safety, governments and schools.


Five-Nines Reliability
Licensed links can be designed with up to 99.999% availability. This provides peace of mind for service providers with SLAs that have contractual obligations with downtime penalties. This level of reliability simply cannot be guaranteed over unlicensed spectrum.
Licensed Examples from the Field

Dustin, CEO of a Florida WISP, shares about their use of licensed microwave:


"Everyone starts out in unlicensed, but all of our backhaul is now in licensed microwave. 6 GHz - 18 GHz works well for our rainy region. 6/7 GHz gets us about six miles, whereas 18 GHz gets us two or three miles. We can get a gigabit signal with no interference in licensed."
Dusty, WISP Director, gets more specific with how his Texas WISP approaches licensed backhaul:


"We use licensed microwave backhaul when we require more bandwidth than an unlicensed link can provide. So usually if consumption is more than 200 Mbps we start looking at a licensed solution or a fiber to the tower solution. We normally don't worry about subscribers, just throughput. We try to keep links under 15 miles so we can keep reliability above 4 nines. Dish size plays a big role for licensed links, so we make sure we build towers that can suit more than a 3 foot dish in areas we think a licensed link may be necessary. All our links are in the 11 GHz band. We've found this band provides the best throughput for our needs. The 6 GHz band requires much larger dishes and the 18 GHz band does not travel the same distance."
What to Look for in Licensed Microwave Radios

Key features to consider when purchasing your microwave radios include:
Spectral Efficiency

This is the number of bits that can be transported in 1 MHz of spectrum. The more bits a radio can deliver in 1 MHz of spectrum, the more efficient it is.



QAM

The higher the QAM a radio can achieve, the higher the spectral efficiency will be. QAM will cause the radio to adjust modulation to help keep it connected during inclement conditions, or when potential interference infringes on the network.



Transmit Power

This is the amount of RF energy a radio generates. More transmit power means that less gain will be required to amplify the signal.



Multi-Core

This refers to having two or more radios encased in one unit, which allows for an increase in capacity without increasing the footprint. Additional cores can be active immediately, or saved for when extra capacity is needed.



Spatial Diversity

This is the use of two antennas connected to one radio to mitigate multipath interference. This happens is limited situations, such as when links cross over water.
Learn More about Licensed Microwave

Chapter 9 of our WISP Guide 2019 covers interference-free licensed links in greater detail. Read about different types of licenses, how to acquire your FCC license, and hear what other WISPs have to say about licensed microwave. Download the guide today!