There are always many contributing factors when building and/or upgrading a network. Generally speaking, the advantages of fiber vs. wireless could be considered to be the following:
FIBER VS. WIRELESS COMPARISON
Consideration
Advantage
Rapid Deployment

Wireless

Initial Investment

Wireless

Total Area that Can Be Covered
Wireless
Time to ROI
Wireless
Capacity (Bandwidth)

Fiber

Stability
Fiber
Length of Time Before Upgrade
Fiber
Take the above chart as a general guide. Each situation really does need to be considered in totality. The specifics of each network and customer scenarios may impact the advantages. Regarding the advantages listed above for fiber:
Capacity (Bandwidth) - Although traditionally an advantage of fiber, the development of multi-gigabit wireless backhaul (up to 10 Gbps) is beginning to level the playing field.
Stability - Areas with significant construction or growth may contribute to an increase in fiber lines accidentally being cuts by third parties, which quickly could turn this advantage into a disadvantage.
Length of Time Before Upgrade - In additional to accidental line cuts, the need to adding numbers of fiber lines to areas to meet higher capacity needs could eliminate or lessen the advantage.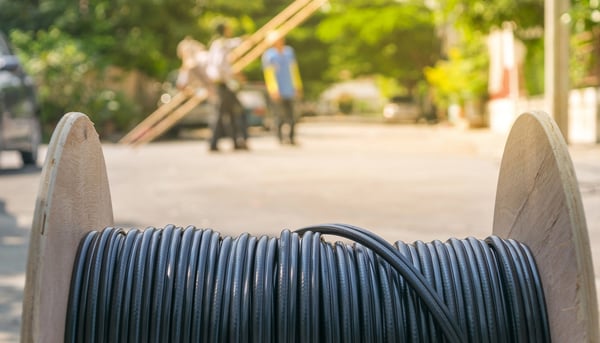 Toss Up Areas of Fiber and Wireless
Other considerations that are harder to generalize as being an advantage of either fiber or wireless include:
Long Term Profitability - Fiber appears to have the advantage, but time and many outside factors will ultimately determine the answer.
Multimedia / Triple Play - Massive Multi-user Multiple-Input Multiple-Output (Massive MuMIMO) technology, where "massive" denotes more than 8×8 antennas, can now wirelessly deliver 100 Mbps to the customer. This challenges fiber's former advantage in supporting streaming video and VoIP on top of broadband internet.
Additional Expenses - Whereas wireless deployments can involve rental space on towers/ structures and possible licensing fees, fiber deployments can involve franchises, right of ways, and permitting.
Support - Related to stability: Although wireless networks deal with interference and are more prone to weather issues causing service interruptions and/or truck rolls, deploying fiber can involve maintaining a fiber network plant, and the aforementioned replacement of accidentally cut lines.
To learn more about Hybrid Fiber-Wireless ISPs, download our free quick guide below: