The Siklu MultiHaulTM TG series introduced at the end of 2020 enabled service providers to deliver Terragraph-certified, gigabit-speed, fixed wireless broadband access in 60 GHz. Now Siklu has sweetened the deal by releasing their new MultiHaul TG Long Range unit, the longest range PtP/PtMP solution now available in the entire Terragraph (TG) ecosystem. This article takes a closer look at this new T280 model, and its unique ability to address the range issue in a way that no other Terragraph device can.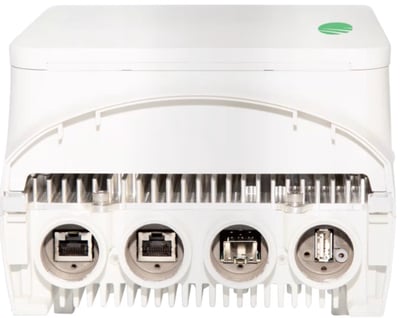 MultiHaul TG Long Range T280 Overview
The new TG Long Range T280 utilizes Facebook Terragraph technology and operates in the 60 GHz mmWave spectrum, delivering multi-gigabit capacity in dense deployments. The unit features 3 ports (RJ-45 up to 5GE or fiber up to 10Gbps), and a range of reflector antennas. (The fourth circular slot pictured above to the right is for the DVM / antenna alignment.)
Polarization options includes vertical, +45°, and -45° in PtP mode, allowing for better isolation in dense networks. Vertical polarization only is available in PtMP mode (see below for more on modes).
Additionally, the T280 includes a built in software configured ethernet switch, PoE out up to 55W for collocated CPEs, cameras or other devices, plus fiber termination. Overall use is simplified through a common feature set and interfaces, and management integrates with all Siklu products. Alignment can be achieved with the a visual alignment tool (included with all Siklu antennas) or fine tuned with a DVM.
Modes and Applications for TG T280
The TG Long Range T280 can function in two modes, creating a wide variety of possibilities for applications:
Point-to-MultiPoint


As a Terminal Unit (TU) that's compatible with the MultiHaul TG Node N366, the T280 can provide additional distances to served locations, in coexistence with other T26x units in the same sector.



Point-to-Point
A pair of T280's can form a bridge, connecting at even longer distances. It's important to note that the T280 offers up to 3 ports with both copper and fiber interfaces, as well as a PoE out to power a collocated N366

or any other 3rd party device.
As a result, the many applications for this new unit include:
Fixed 5G Wireless Access

Gigabit-to-the-Home, MDU and the Enterprise

Micro-POP

Wi-Fi Hotspot Backhaul

Security / Safe City Networks

Smart City Business Services

Municipal Networks

Small Cell Backhaul

Fiber Hand-off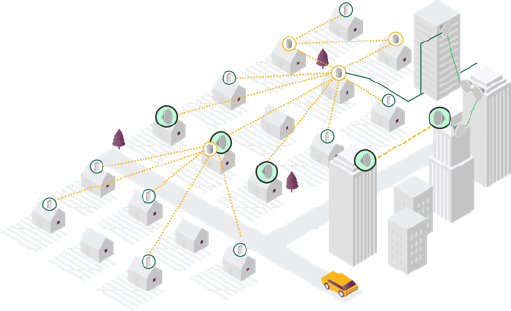 Illustration of PtP & PtMP applications of Siklu MultiHaul TG T280 Long Range


What Are the Key Advantages of TG Long Range?
The choice of antenna gain, along with high Tx power and scalable capacity, allows the T280 to accomplish more for less by achieving:
Reduced CAPEX - fewer units, less access rights, minimized infrastructure costs
Shorter time to market
Reduced OPEX - less sites to operate, configure, and power
3.8 Gbps aggregate throughout can be achieved today up to 350m with 0.5 ft antenna, and will soon reach up to 1000m with a 1 ft antenna. Additionally, the chart below compares the antenna specs at 1 Gbps symmetrical throughout.

Antenna Comparison for Siklu MultiHaul TG T280 Long Range

Dish Size

Gain

PtMP

Distance
(1 Gbps DL)

PtP
Distance
(1 Gbps FD)

Status

0.5 ft

36dBi

600m

700m

Available now

1 ft

42dBi

800m

1300m

Q3 2021

2 ft.
48dBi

1000m

2000m

Q3 2021
See also Siklu's link budget calculator for your specific link scenarios.
Learn More about the T280
Interested in learning more? Get more details for the Siklu MultiHaul TG Long Range T280 on our website, or by calling the DoubleRadius team at (866) 891-3602. This new long range option makes Terragraph more powerful than ever!