The Ubiquiti Academy certification program has rapidly grown since its inception in 2012, with more than 10,000 students being trained worldwide! UBRSS and UBRSA are the two training certification courses currently offered for the Ubiquiti EdgeMAX series. This article provides an overview of these two courses, highlights the benefits of getting certified, and explains what can be done with the EdgeMAX products.
What is EdgeMAX?
Before addressing the advantages of Ubiquiti UBRSS and UBRSA certifications, a quick series overview. Ubiquiti's EdgeMAX is essentially a series of indoor and outdoor routers and switches that provide superior performance in wired networking solutions at a disruptive price point.
Types of EdgeMAX products include:
EdgePoint
EdgeRouter
EdgeSwitch
EdgePower
The case studies below show how EdgeMAX products interoperate with these other types of Ubiquiti products. Additionally, Ubiquiti's new UISP features a network module to take care of all devices and network management, and a CRM module to provide customer management and billing.
Putting EdgeMAX Training into Action
Networking scenarios for EdgeMAX are virtually limitless, but some specific case studies include:
These are just a handful of the deployment examples worldwide. However, this sampling alone shows the diversity of applications. EdgeMAX solutions deliver on the routing and switching needs of SMB, enterprise, education, government, or many other types of clients.
Benefits of UBRSS and UBRSA Certification
Reading the case studies above reveals how EdgeMAX works in conjunction with other Ubiquti products to form complete client solutions. Therefore, trainees receiving Ubiquiti EdgeMAX UBRSS and UBRSA certifications will not only gain a superior level of knowledge in routing and switching, but in building overall Ubiquiti solutions.
Additionally, taking the Ubiquiti UBRSS and UBRSA courses provides trainees a path for professional development, increasing their skillset for their respective Broadband ISP, Enterprise, or Solar industries fields. Trainees also earn recognition for their proficiency of Ubiquiti's products, platforms, and services, gaining credibility for themselves and their companies.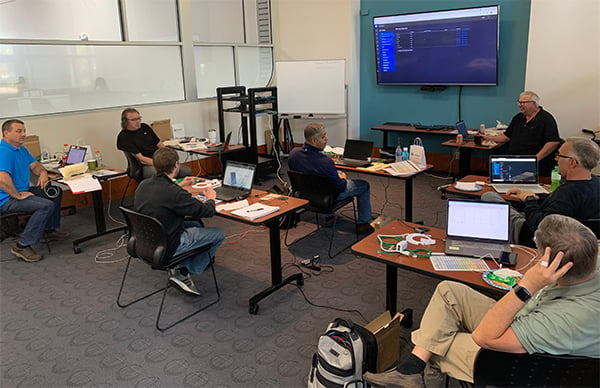 Ubiquiti training certification class held at DoubleRadius headquarters
UBRSS - Specialist Course
The Ubiquiti Broadband Routing and Switching Specialist (UBRSS) course is a three-day, in-class training course designed to teach core protocols and technologies used in today's Internet Service Provider networks. The curriculum contains practical, real-world WISP examples as well as hands-on lab activities using EdgeMAX hardware.
This course outlines includes:

Device Management
Configure Lab Equipment
EdgeMAX Product Family

IPv4 and Subnetting
Addressing Basics
Subnetting
VLSM for Providers
Summarization
Network Design
OSI Model and Encapsulation
Network Topology Foundations
Network Interfaces
The Local Network
Network Communication
The Wide Area Network

Routing
Routing Tables
Static Routing Protocols
Dynamic Routing Protocols

Services and Security
DHCP
DNS
NAT
Firewalls
Tunnels and VPN

Appendices
IPv6 Intro
EdgeOS Commands
Addressing and Routing Tables
Device Management
IPv4 and Subnetting
Network Design
Routing
Services and Security
Appendices
UBRSA - Administrator Course
While not a pre-requisite it's highly recommended that you complete the UBRSS course before taking the UBRSA course.
The Ubiquiti Broadband Routing and Switching Administrator (UBRSA) course a two-day, in-class training course designed for professionals in the Service Provider market that seek hands-on experience configuring EdgeMAX products.
Compared to the UBRSS course, the UBRSA lab activities teach real-world deployment scenarios involving:
Virtual LANs
Advanced L2 Studies
Policy-Based Routing
BGP Operation
Multi-Area OSPF
Important to Note:
Both the UBRSS and UBRSA courses are offered by a Ubiquiti Certified Instructor at the DoubleRadius training facility just outside of Charlotte, NC. An exam will be given at the conclusion of each course.
Get Registered for Ubiquiti UBRSS and UBRSA!
DoubleRadius has limited space for our UBRSS and UBRSA offered in July and November of 2021. You can see significantly when taking both classes in the same week. Register today to secure seats for your team!