Featured on this edition of DoubleRadius' Solution Series is a look into WiFi and the factors affecting today's tech environment.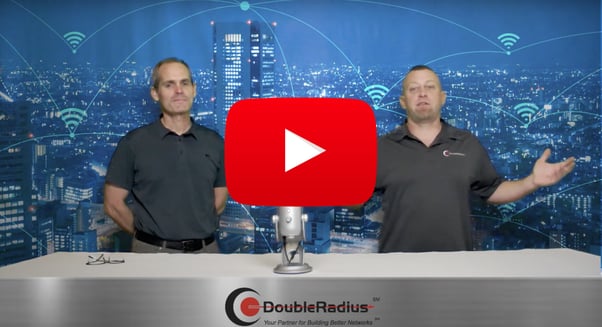 Hosted by Jeff Holdenrid and joined by Chris Shupe.
Join Jeff in discussion with Chris Shupe as we dive deep into how Wi-Fi has changed over the years and the impact it has in the industry today.
Welcome back to the Solution Series brought to you by DoubleRadius,
hosted by Jeff Holdenrid.
Over the last decade, Wi-Fi has become a basic necessity, or utility, no
longer a luxury. That goes with all Internet connections, but Wi-Fi is mainly
the primary source that people connect with today. Let us introduce to you
a guest who is a professional in Wi-Fi and is also part of a managed service provider, Chris Shupe.
Chris can you tell us a little bit about yourself, your background as an MSP,
and your experiences with Wi-Fi?
With 20 years spent in the MSP (Managed Service Provider) I started out with
multiple companies, one being DoubleRadius. As well as a spin-off of
DoubleRadius, Inviacom, was a cofounder of that which was recently acquired
by a company called single digits. We now serve over 4000 properties worldwide.
If you can go back and tell your younger self any piece of advice wishing
you knew then what you know now, what would you say?
Invest in people. Surround yourself with good people, try not to take it on
yourself, that is key. The other are tools, they are very important. CRM tools,
monitoring tools, key partnerships with manufacturers to help simplify your
network deployments. Companies like Cambium and Ruckus are certainly key to
developing technology solutions in your go-to-market strategy.

How many devices, wireless access points (WAPS) would you say you
have deployed in the last 20 years?
It is well over 100,000 access points. Today our company, Singledigits monitors
over 750,000 devices. That is a combination of access points; firewalls deployed
are a list more.

What are the main manufactures you are working with today?
Key relationships are with Ruckus, Cambium, Aruba, Meraki - they are the
leaders in the Wi-Fi space. Many not only have access points but they also have
switch solutions. Having a solid relationship as I indicated earlier that has a broad
portfolio of products and services is key, but also striving to have that single
pane of glass when you are monitoring and managing all these devices.

Do you see a split it deployments between your ceiling mount devices and
your wall plates?
We do. In many of our student housing multi-dwelling environments, it's pure wall
plates. We need to deliver both wireless and wired connectivity to the students
per our customer's requirements. In senior housing and senior living, we are still very heavy ceiling mount, it is a pure wireless deployment. In either scenario we
had great success antenna propagation means a lot in the two form
factors do different and you need to pay particular attention to that in your RF
planning. We have great success with both but we are probably a 50-50
deployment.

What are some neat features that you have worked with the manufactures
on, or they've brought to the table to help you with your deployments and
are needed today?
Over the years a lot of cool features and benefits of been developed, the
dashboards have improved. As I said earlier having that single pane of glass has
been key in monitoring this massive amount of devices we have, but one of the
differentiating features has been the adoption of a dynamic pre-shared key. Our
goal in our MDU space is to be able to deliver a personal area network to each
one of the residents. We have a single-essence ID deployed across the campus
and being able to give everyone their own private network is key. The days of
giving folks usernames and credentials with captive portals are gone. Now we're
giving everyone their own unique pre-shared key and that is how their VLAN Is
assigned to them, and they are able to access the network and have peer-to-peer
networking with all of their personal devices.

That's cool. I know they are still defining the rules, but what are your
thoughts of the opening of 6Ghtz for Wi-Fi and Wi-Fi6 Wi-Fi 6E?
Opening that up has been a game-changer, it's a must. We have become a
bandwidth-crazed, bandwidth-hungry society and the additions of 4K streaming
requiring 20 to 25 Mb stream per device has driven us to that point. It's been
a long time since I've worked with the Cisco Internet product, back in the 802.11
days. It was a long time ago but now we come through 802.11, AC, BGACAD,
which is kind of falling out of the way with 60 GHz. Now with AX and with 60 onboard, it's certainly been a game-changer. A must-have with the massive amount
of devices we are trying to support and still deliver big bandwidth.

You have mentioned massive deployments and also massive numbers of
clients; what is your, per resident, average client device you're seeing as
compared to what it used to be?
That's a good question. We've watched that evolve since when we first
started in the MDU space 11 years ago it was 1-2 devices per resident, you had
your typical laptop and a Kindle device. Today we now have on average 12 to 15
devices per unit, with as high as 40 devices. With the adoption of IOT
devices, light switches, HVAC thermostats, in-home video surveillance,
appliances, everything is Wi-Fi enabled today. That has really made us step our
game up making sure we connect all those and the residences have the access
they need.

Last question. Looking through a crystal ball for the future on where we're
going to be in a few years, if you had to guess, in the next 18 months, three
years, etc .. what do you think WiFi will evolve to, and where do you think it
will go?
I think with the 6G coming it's hard to believe we would need more
spectrum, more bandwidth. It's going to be up to the FCC to find more
spectrum. As said before, 60 gigs fell by the wayside because of its small
coverage area. I don't see us going into the super-high frequencies because of
the characteristics, the limitations that it brings. I can only see that the FCC will
still find more spectrum in these lower frequencies to continue to expand on that.
You mentioned crystal ball, it is really hard to tell where we will go. Again, it's the
spectrum we have allocated us today, that will come, seems like it should cover
us up for quite a long time, but this technology is changing every day.

We appreciate you being here today, and we appreciate all our viewers for
watching. I hope you learned something today. As always, reach out to
your sales representative at DoubleRadius on how they can help you with
Wi-Fi solutions. They can help you with all your MSP questions and
answers. Thanks for listening. We hope you enjoy this video. See you next
time, thank you and have a wonderful day!