The Dream Machine (UDM) and Dream Machine Pro (UDM-PRO) from Ubiquiti both offer powerful and innovative options for WiFi networking. This article provides a quick overview of different specs and applications. It also compares their specs and applications. Additionally, there are links to helpful videos on how to install this technology. After reading this article, you'll have a better handle on whether the UDM or UDM-PRO is right for for each WiFi networking scenario.
Ubiquiti Dream Machine (UDM)
The Ubiquiti UniFi® Dream Machine (UDM) offers simple, powerful networking in one single device powered by a fast 1.7 GHz quad‑core processor. This sleek and attractive form factor combines everything required for a small-scale wired or Wi-Fi network, including a:


Wi-Fi AP
4-Port Switch
Security Gateway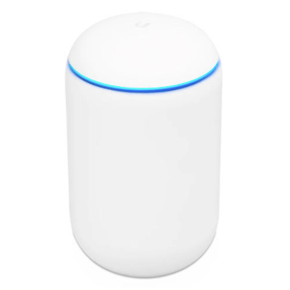 Although it's easy to use, the UDM utilizes advanced 802.11ac Wave 2 and 4x4 MU-MIMO technology. Plus, it can be easily expanded by adding more UniFi switches or APs.
Additional features of the UDM include:
Powerful Security
Automatic QoS
Convenient VLAN Support
VPN Server for Secure Communications
When to Use the UDM
The Dream Machine is the easiest way to introduce UniFi into homes and businesses, making it the the ideal first UniFi device. It's easy to use and still offers all the benefits of UniFi, including management through the the scalable UniFI network controller.
The UniFi Network app and UniFi cloud provide remote access to the controller from anywhere. The entire network can be kept updated and safe with free, automated software updates. The network can also be easily expanded by adding more UniFi switches or access points while managing the network with the integrated controller.
Practical applications for the UDM include:


Video streaming
Gaming
Local video, photo, and file transfers
For enterprise use, the UDM fits into high‑density environments for small, remote corporate offices, retail stores, and hospitality locales. The network diagram below illustrates devices can be connected wirelessly and wired. Here the UniFi Network Controller runs on the UDM, which also acts as a firewall and DHCP server for the local network.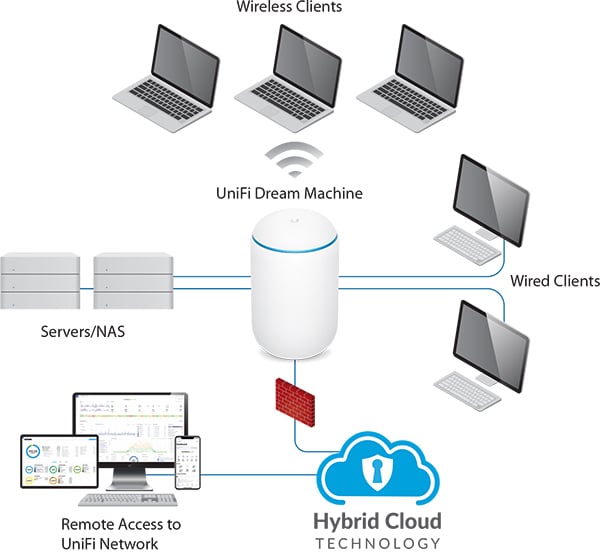 For an informative and entertaining video, check out UniFi Dream Machine - the BEST WiFi router (Review and Advanced Setup). The first 7 minutes covers a basic setup using a mobile phone, and the remainder offers more advanced setup via desktop.
Ubiquiti Dream Machine Pro (UDM-PRO)
Like the UDM, the Ubiquiti UniFi® Dream Machine Pro (UDM-PRO) is also powered by a fast 1.7 GHz quad‑core processor. However, the UDM-PRO is built more as an enterprise-class solution, and includes:
Advanced Security Gateway with Built-in Switch
Dual WAN Ports: One 10G SFP+ and One Gigabit RJ45
One 10G SFP+ LAN Port
Embedded Enterprise Software: UniFi Network
3.5" HDD Bay for NVR Storage (2.5" HDD also supported)

Additional features of the UDM -PRO:
The same additional bulleted list of features for the UDM mentioned above are also included for the UDM-PRO, with the addition of:
1.3" touchscreen displaying status for easy monitoring and troubleshooting.

Multiple redundancy options
The chart below offers a quick comparison of the Dream Machine models to help clarify the distinct differences in specs:

UNIFI DREAM MACHINE - SPECS COMPARISON

Model

UDM

UDM-Pro

Security Gateway

Yes
Yes

Firewall and VPN

Yes
Yes

UniFi OS Applications*

Network

Network, Protect, Talk,

Access

Built-in WiFi Access Point

Yes
No
No
Yes
No
Yes
No

(1) HDD Expansion Bay

(4) 10/100/1000 RJ45 Ports

(8) 10/100/1000 RJ45 Ports

requires either a Unifi PoE Switch or PoE Injector

requires either a Unifi PoE Switch or PoE Injector

No

(1) 10/100/1000 RJ45 Port

(1) 10G SFP+ Port, (1) 1G RJ45 Port

AC/DC, Internal, 26W

AC/DC, Internal, 50W

ø110 x184.2 mm

442.4 x 43.7 x 285.6 mm

Weight

1.05 kg

3.90 kg
See also their helpful video on How to Install: Ubiquiti UniFi UDM-Pro.
When to Use the UDM-Pro
Referenced in the chart above are the variety of UniFi OS applications* that the UDM-PRO supports. In addition to the the Network applications that the UDM is also suited for, the UDM-PRO also supports Protect, Talk, and Access applications. Ubiquiti's video on Getting Started with UniFi helps reviews applications and covers related UniFI OS consoles for each.
The illustration below shows a network diagram including Network and Protect consoles. Conveniently, the UniFi Protect Controller can be installed on the UDM-PRO. Without any separate software, licensing, hosting, or support fees, the controller allows you to set up, configure, and monitor UniFi cameras using a graphical user interface.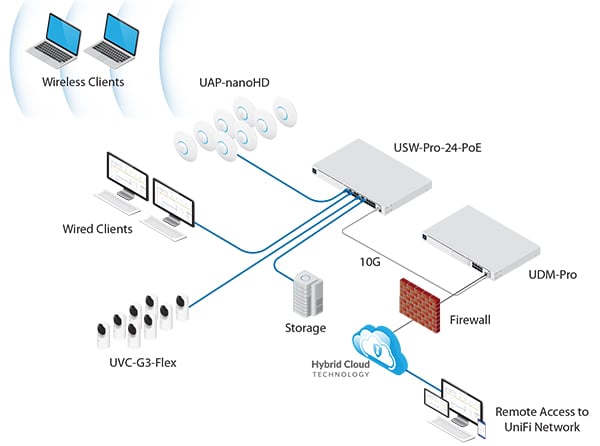 The UDM-PRO is ideal for scenarios that use multiple UniFi OS consoles. It's also especially helpful for large enterprise deployments.
Need More Info on the Dream Machines?
Curious about the 802.11ac technology and the various MIMO operations models for the UDM? Or maybe the redundancy options for the UDM-PRO and how the U-LTE fits into the equation? For more information on this technology and the options available, click the button below!