Ubiquiti Networks is a leading manufacturer of wireless data communications and networking products for a wide array of applications including enterprise, systems integration, MSP, ISP, and home consumer.
DoubleRadius recently presented an overview webinar on exciting new products from Ubiquiti, organized into their Operator and UniFi categories. This article summarizes the presentation made by Caleb Knauer, DoubleRadius Technical Service Director and Ubiquiti Certified Trainer.
New Ubiquiti Operator Products
Primary for fixed wireless ISPs, new products covered in the Operator section include:
LTU
The LTU line represents the Long Term Ubiquiti vision for where their Point-to-Point (PTP) and Point-to-Multi-Point (PTMP) platform is heading:


Custom built from ground up - Not based on Wi-Fi chipset

Efficiency is Key

12x 4096 QAM - 1 Gbps coming

Advanced RF filtering

Advanced AirView and spectrum analysis

Split TX/RX

Familiar form factors




PTP- AF5XHD - Proven performance in the 5 GHz unlicensed

PTMP

LTU Rocket

LTU Pro

LTU Lite

LTU LR (Long Range)

and more on the way...

UNMS - Controlled by the Ubiquiti Networking Management System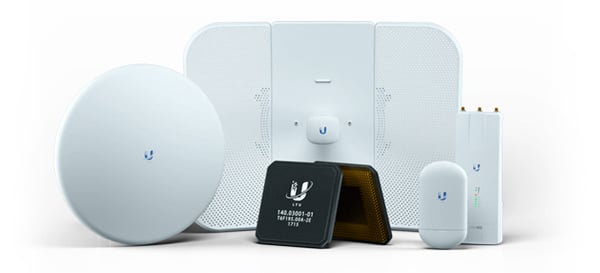 airFiber 60 GHz (AF-60)
Heavy duty, professional quality Point-to-Point airFiber platform 60 GHz radio.
High frequency, unlicensed

Low interference, focused beam, very pocketed

1 Gbps of throughput

Up to 2 km

5 GHz failover

GPS sync
New Ubiquiti UniFi Products
The UniFi platform has grown over the last decade from their original access points to an entire suite of solutions. New UniFi products have been developed to bring together other parts of the UniFi ecosystem. UnFi is utilized in enterprise, SMB, residential, and other markets
The new products covered in the UniFi section include:
UniFi Dream Machine (UDM)
Designed for SMB and higher end residential builds using the UniFi ecosystem.
Unifies multiple parts of UniFi into a single form factor:

Ubiquiti Security Gateway (USG) - Router
Access Point (Wave 2-MU-MIMO)
Switch - 4 gigabit managed ports
Controller

Expandable with additional access points and switches
Manage via cloud and UniFi network app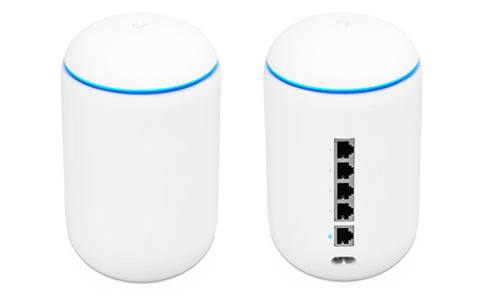 Ubiquiti Dream Machine (UDM)
UniFi Dream Machine Pro (UDM-Pro)
This unit is the same concept as UDM but enterprise level.
More speed and security than USG

IDS and IPS more efficiently

Dual WAN- 1x RJ45 Gigabit 1x SFP+
LAN - 8x RJ45 Gigabit 1xSFP+
HDD Bay for UniFi Protect and 8TB hard drive option
Rack Mountable
Supports upcoming power options
NO AP built in - Like the Dream Machine, it can be expanded with access points and switches
Gen2 Switches
This new family of enhanced switches was built to be UniFi switches from the ground up, with many ports options.
Gen2 enhancements include:
Cooling and noise improvements
POE++ support for XG access point
LED display and sleek design
Layer 3 features in the future
Supports power redundancy
Streamlined SKU's

USW-16-POE: 60w, 2 SFP Ethernet Ports
USW-24-POE: 120w, 2 SFP Ethernet Ports
USW-Pro-24-POE: 450w 2 SFP+ Ethernet Ports
USW-Pro-48-POE: 660w 2 SFP+ Ethernet Ports
FlexHD Access Point (UAP-FlexHD)
This new access point with flexible mounting options includes the following features:
Modern, discrete design to integrate with contemporary architecture and office spaces
Optional wall and ceiling mounts
LED - blue light to indicate Wi-Fi
802.11ac Wave2 - 4x4 MU-MIMO
Dual band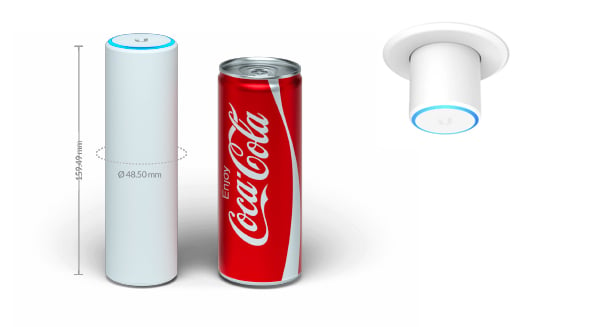 Ubiquiti FlexHD Access Point (UAP-FlexHD)
BeaconHD Access Point (UAP-BecondHD)
Wireless mesh hop device used as a compliment to Dream Machine and other UniFi APs in a network.
Plug and Play - Plugs into wall outlet and will easily adopt in controller
Fills in pockets where you need coverage
802.11ac Wave 2- 4x4 MU-MIMO
Dual Band
Direct AC plug
Simple and fast without Cat5
Redundant WAN over LTE (U-LTE)
LTE-fed backup solution for a UniFi network.


POE powered - can be anywhere in the network
External antenna option and wall mountable
Easy to configure
Connects over AT&T LTE data plan
UniFi Building to Building Bridge (UBB)
Pre-configured 60 GHz Point-to-Point link kit, managed over UniFi controller.

Operates in 60 GHz Band with 5 GHz failover like AF-60
500m range - built for connecting buildings
Illuminating LED ring help with alignment
Watch Webinar Recording & Get More Info
Looking for additional information? Visit the DoubleRadius website to learn more about new Ubiquiti products, or watch the complete Ubiquiti New Products Overview webinar recording by clicking the button below.