An important part of business solvency for service providers is having a contingency plan for damaged fixed wireless radio equipment. When factors ranging for storms to eventual wear and tear create issues with wireless radios, there are some important factors to keep in mind for your strategy to repair vs. replace.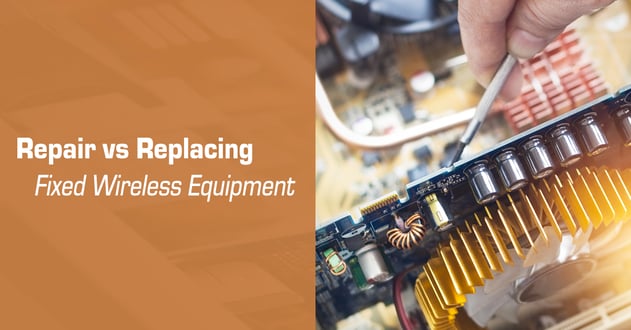 (*This article originally posted 1/31/19 was revised and updated on 2/7/20.)
Decision Factors for Repairing vs Replacing
Providing your customers with a reliable internet connection is a constant requirement. Likewise, it's important to make smart, long term business decisions. When something goes wrong with your equipment, consider the following questions:
Do I Need to Upgrade to Improved Features and Functionality?
Sometimes things break right around the right time. Perhaps you've gotten good value out of equipment, and it's now outdated. You may have planned to upgrade it sometime soon anyway. In this case, the choice is fairly simply. It's time for new equipment.



Can I Still Get

Significant

Value Out of the Equipment?


A repair will cost a fraction of a new equipment, and could keep the equipment functioning for years to come. If you did not have plans to replace the equipment in the near future, repairing the equipment is a viable option.


Can I Buy a Backwards Compatible Device?
Manufacturers are consistently rolling out new products and discontinuing old ones. New equipment may not always be backwards compatible with legacy equipment, requiring a total rip and replace. Repairing equipmen

t now can save you from

having to rip and replace an entire network,

allowing you to plan out and budget for a gradual upgrade path.


How Much Downtime Will a Repair Take?




Repairing equipment takes time. When deciding if you want to replace or repair calculate how much downtime a repair will take. DoubleRadius does offer a 48-hour expedited repair service but don't forget to calculate the time it takes to remove the equipment, plus shipping transit time both ways. A new unit, however, can be overnighted and running within 24 hours.
The above questions will serve as a guide, and keeping a well-organized inventory of wireless radios will prove helpful as well. Include planned replacement dates on your radio inventory list, and stay true to your overall plan and budget.
Spare Units Also Key to Contingency
Continuing with the above point, having an established plan ahead of time instead of reacting in the moment is the best protection against impulse decisions. This should ideally include investing in spare units as a safeguard against potential downtime that could be far more costly.
Dusty, Director of a WISP from Texas, speaks to this point of preparedness:
"We always keep spares of everything in-house, in order to be prepared for weather damage or device failure. When we have an issue, we always start with RMAs. Often times, a radio repair is free. If the repairs are going to cost us, then our decision is based on the cost of the unit. We will pay to have an expensive AP or PTP radio repaired, although not inexpensive CPEs."
DoubleRadius Offers Repair Service
If you've concluded that a repair would be a more cost-effective approach when dealing with damaged wireless radios, DoubleRadius is here to help! Highlights of our repair service include:


Flat fee based on the model
6-month warranty
10 day turn around (typically - some repairs may take more time)
Expedited 48-Hour repairs for an additional fee
Review our repair service page for a list Cambium radios we offer repair service on. Also, call us at 866-891-3602 if for repair questions on other manufacturer's radios, as we may be able to help with those repairs as well.
For more WISP's perspectives on this and other helpful topics, download our most recent WISP Guide below.