Ericsson is one of the leading providers of Information and Communication Technology (ICT) to service providers, and is the market leader in microwave transmission. They enable the full value of connectivity by creating innovative technology and services that are easy to use, adopt, and scale. This article provides a backdrop for Ericsson's entrance in to CBRS, and focuses on one of their exciting CBRS products now in the market, the Micro Radio 4408.
Ericsson's Entrance into CBRS
"Ericsson has now received the United States Federal Communications Commission (FCC) certification for CBRS – and this is a big deal."

"We are a world leader in the rapidly changing environment of communications technology."
Before diving into the the Ericsson's CBRS Micro Radio 4408, let's take a step back for context. The first quote above is from Ericsson's October, 2018 article, 3 ways CBRS will change how you work with LTE, when their CBRS activity was in its relatively early stages. Fast forward to present day, where this second quote comes from Ericsson's company facts webpage. On this same page they also list their net sales for Q2 2020 as SEK 55.6 B. (At the current exchange rate, that's over 6 B USD!)
Now consider another quote, this time from VP Network of Product Solutions, Ericsson Inc., USA in this article on the CBRS WInnForum Standards website:


"[Our] commitment to supplying LTE equipment for the band will ensure strong commercial support for the ecosystem."

Adding this all together, the impact of Ericsson's commitment promises to have a significant impact of the the advancement of CBRS technology.
Ericsson Radio System Solutions Overview
Now, a quick overview of the Ericsson Radio System portfolio, of which the Micro Radio 4408 is a part:
The complete Ericsson Radio System family includes macro, massive MIMO, mmWave, micro, and indoor remote radios and antenna-integrated radios for radio access networks. These radios are based on state-of-the-art multi-standard technology and can operate in GSM, WCDMA, LTE, and 5G mode using FDD, TDD, as well as supplementary downlinks.
Ericsson's radios can be installed in cabinets, close to the antennas, or fully integrated into the antennas. Mounting options include rail, wall, ceiling or pole. The rail system features a unique one-bolt installation, providing tremendous flexibility and speed. As such, the rail system resolves most site challenges faced by operators.
Key Ericsson Radio System benefits include:


Highest performance for best end-user experience.
Modular radio design for quick and easy installation.

State-of-the art radios to meet the needs of the future
Overview of Ericsson CBRS Micro Radio 4408
The Micro Radio 4408 is a best in class design, with superior radio performance and power efficiency when it comes to medium range 3GPP radio products. Thanks to its small and smart dimensions, Radio 4408 supports a wide range of mounting scenarios and has a pioneering flexibility within its product segment, making it easier than ever to make small and efficient single and multi-band micro radio installations.
The CBRS Alliance lists Radio 4408 as an OnGo™ Certified Device, meaning that it, "has been tested in numerous configurations with a diverse sampling of products to validate interoperability with other OnGo Certified equipment operating in the 3.5 GHz frequency band."
Integrated Antenna Options
The Radio 4408 supports installations with integrated or external antennas. The versatile optical CPRI interface enables it to connect to any of the efficient Ericsson Baseband LTE modules by use of star or cascade configurations supporting multi sector and multi band.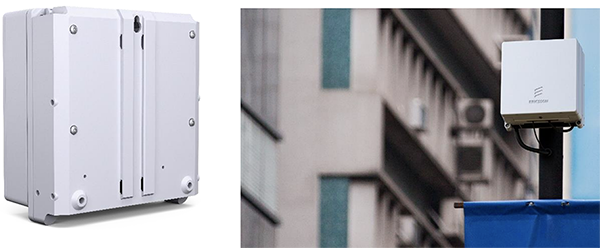 Above left: Support system on back of Micro Radio 4408 where wall and pole mount are integrated.
Above right: Micro Radio 4408 mounted on a lamp pole.

Highlights of Micro Radio 4408 Specs
The IP65 rated Radio 4408 supports LTE TDD with four duplex TX/RX branches, supporting up to 4 x 5 W output power.
A highlight of other specs includes:
Frequency bands: B38A, B40U, B42, B43, B48, B77C
Carrier capacity: Up to 6 LTE carriers, Up to 100MHz NR carrier bandwidth
IBW: Up to 150MHz
MIMO: Yes, 4T4R
Output power: 4 x 5 W
Antenna ports: 4 x NEX10 (f)
CPRI: 2 x 2.5/5/10 Gbps (exchangeable SFP modules)
Optical indicators: 6
Weight: < 5kg
Mounting: Rail, wall and pole mount
Power Supply: -48VDC or 100 - 250 VAC
See our Ericsson page for complete specs on the CBRS Micro Radio 4408
Learn More About the Ericsson Portfolio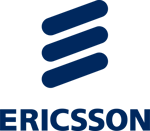 The CBRS Micro Radio 4408 is not the only product to take a closer look at from Ericsson. The MINI-LINK 6363 is another powerful radio option to consider. As the world's first split mount E-band radio, the MINI-LINK 6363 offers cost efficient access to the E-band spectrum, with reuse of nodes and coaxial cabling. It supports both TDM and packet transport, and gigabit capacity is provided through 1024 QAM modulation support. The 6363 also enables multi-band booster in split mount configurations, in combination with a traditional frequency band. Sound interesting?