We've all heard a lot of buzz about how 5G will improve communications. On the other hand, there's been a shortage of clear information on what 5G will really look like. Baicells Technologies, a leading manufacturer of 5G & LTE technology, has taken the time to explain the facts about 5G. This article summarizes the key points of Baicells' research.
Key Parameters of 5G
"5G" simply stands for fifth generation. 5G wireless systems are based on 3GPP Release 15, the first full set of 5G standards, formed in 2018. The unprecedented performance specs of 5G can be summarized by the table below:

KEY 5G PARAMETERS

Parameter

Specification

Latency in the air link

<1 ms

Latency end-to-end (device to core)

<10 ms

Connection density

100x current 4G LTE

Area capacity

1 Tbps/km2

System spectral efficiency

10 bps/Hz/cell

Peak throughput (downlink) per connection

10 Gbps

Energy efficiency

>90% improvement over LTE
What is the Scope of 5G?
Drivers behind 5G are video and other content-rich services, as well as the Internet of Things (IoT). As such, the scope of 5G includes the following three main areas, better visualized in the pyramid graphic below:
Enhanced Mobile Broadband (eMBB)
Ultra-Reliable and Low Latency Communications (URLLC)
Massive Machine Type Communication (mMTC)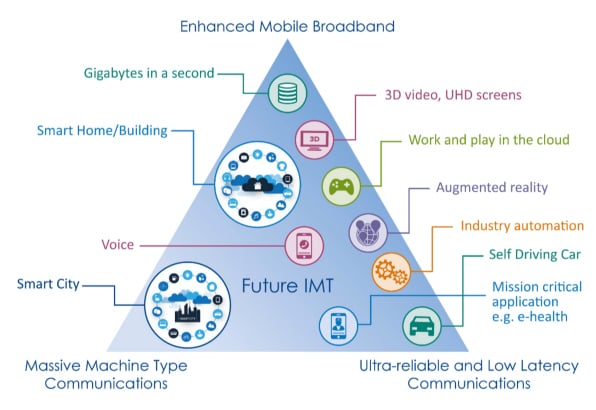 What Are 5G Characteristics?
Understanding the unique characteristics of 5G includes looking at four main areas:
Millimeter Waves
5G frequencies are between 30-300 GHz with a wave length between 1-10 m. These high speed and short range waves are unable to penetrate buildings.


Small Cells
5G smalls cells require minimal power to operate. Cells can be placed throughout cities at approximately 250 m apart. Small antennas transmitting tiny millimeter waves cam be installed on light poles and rooftops.


Massive MIMO
5G Massive Multiple-Input Multiple-Output (MIMO) supports hundreds of ports, so many more antennas can fit on a single array. This increases the capacity of mobile networks by a factor of 22x or more.


Beamforming
Beamforming utilized in 5G focuses a signal in the direction of a user, rather than broadcasting in many directions at once. This reduces interference for nearby users.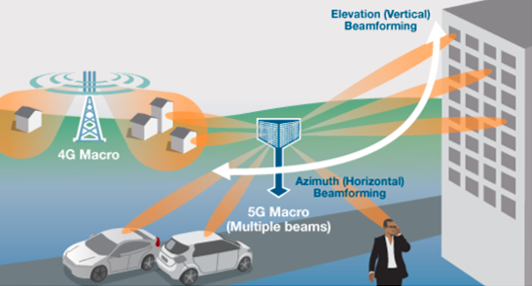 4+5G Applications for Connecting More Devices
As the wireless world progresses from 4G/LTE into 5G, the possibilities for connectivity are nearly endless, with an ever-growing number of devices to connect. The illustration below gives an idea of LTE, 4G and 5G New Radio (NR) applications.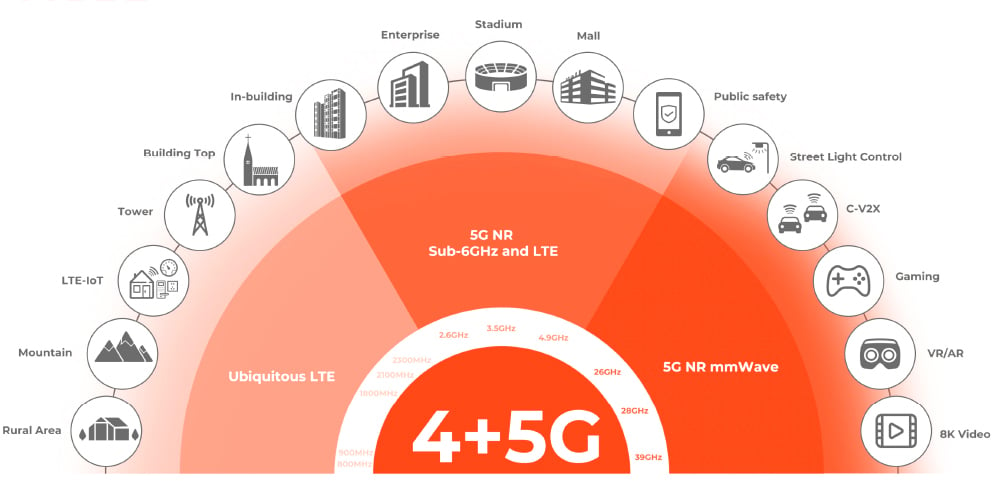 Special Note on 5G for Service Providers
Operators with existing 4G / LTE Baicells deployments will have a future-proof upgrade path delivering 5G service. Furthermore, as a contributing member of the O-RAN Alliance, Baicells 4G / LTE technology will be compatible with any standards-based 5G / LTE ecosystem. This opens the doors for incredible flexibility on delivering 5G solutions for:
Virtual Learning
Telehealth
Precision Agriculture
and many more!
Preparing for 5G with Baicells Technologies

Baicells Technologies is on the cutting edge of 5G, with NR demo systems already being tested. For more information about the Baicells 5G equipment roadmap, or to inquire about a demo, contact our team today!