DoubleRadius has had the privilege of working with WISPs for nearly 20 years, and we continue to meet entrepreneurs looking to start up new WISPs today. As a resource for those looking to get started, our article below summarizes the "keys to success" from our popular WISP Essentials Guide. This guide was written after interviewing some of the more successful WISPs customers, so we think you'll be in good company by incorporating these principles into your new WISP business.!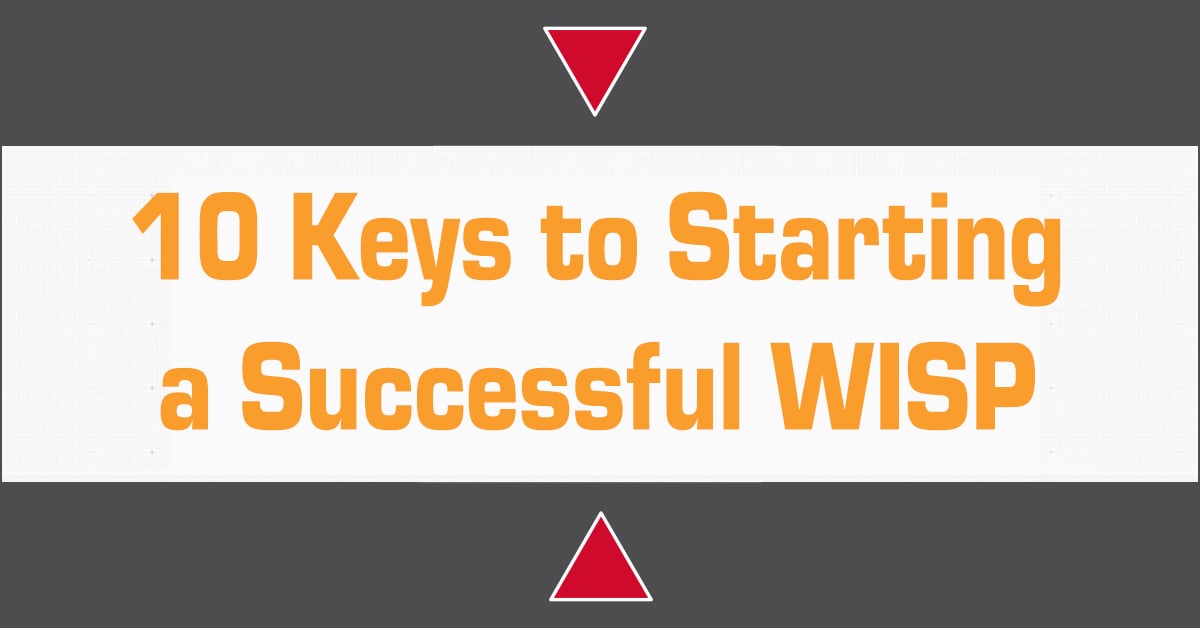 Key #1: Set Your Business Up for Success
View it primarily as a business, not a WISP. Get whatever outside help is needed. Develop standard operating procedures early on that will sustain smooth operations as you scale. Think long term instead of cutting corners when it comes to investing in equipment, software, and employees. Start with data and do that well before you adding more offerings. Do you homework, get advice, and become involved in the industry. Never stop learning.


Key #2: Build Your Network Wisely
Have long term vision and be realistic about the investments that will be required over time. Build a network capable of winning and keeping your customers. Understand also that all network investments are to improve the customer experience, and customer satisfaction translates to long term success. Maximize your coverage area as opposed to expanding too quickly, to maximize ROI. Be mindful as well of your terrain and the seasonal challenges it presents, and target coverage areas that are more serviceable. Set standards for the service, and learn to say "no" if they can't be achieved.
Key #3: Protect Your Network
Develop the daily ritual of listening to your network - proactively monitoring, troubleshooting, and watching for patterns. Pay it forward be building wisely and considerately, not causing interference. Be a good neighbor so you can expect the same in return. Be aware of Denial-of-Service (DDoS) attacks that will happen, and physically protect your network by weatherproofing and employing surge-protection to counter lightning strikes.

Key #4: Get Your Finances in Order
Manage your budget and live within your means, but consider responsible ways to extend your ability to grow. Utilize the funding options available, such as government grants and loans, and partner leasing. Investing in your business is all about perspective and calculated risk. Remember that you get out what you put in. No risk, no reward. Determine how you can beat your competition to the punch to win marketshare.

Key #5: Create Customer Loyalty
Offering a good product for a good price will win you the customer initially. Great customer service, however, can result in customer loyalty even when better service offerings are available. Hire and build your team with a dedication to customer service in mind. Give your customer the same customer experience you expect as a consumer, and don't be afraid to own your mistakes. Create channels of communication that make it easy for your customers to reach you. Engaged customers feel connected, and that is what you are after. The more communication the better!

Key #6: Know Your Market: Part 1 - Grow with Demand
Have an ongoing plan to maximize your reach in your current coverage area. Respond to customer needs, and the local market demand. Once established and stable, increase your revenue per customer by offering other services you can realistically and profitably deliver. These may include services like email, web design and hosting, computer services, video surveillance, VoIP phone systems, IPTV and others. Ask other WISPs for advice in how they've added services. As you maximize your current service area, be on the lookout for expansion opportunities. Develop a strategize that simplifies the ability to expand quickly when the opportunity presents itself.
Key #7: Know Your Market: Part 2 - Make the Right Offerings
Consider what better service would look like relative to your competition. Providing a better service does NOT necessarily mean offering the best possible speeds. Offering the best service relative to the market keeps you a step ahead of your competition. The Ideal scenario is providing service to area with no competition, but another great scenario is where there's enough demand for better service that's not available. When determining price, don't undercut your prices to gain new subscribers. Establish and hold the line on rates for long term solvency. Always charge the premium price allowed by your market when providing premium residential and business services.
Key #8: Find More Frequency
Running out of spectrum can be the biggest problem for a WISP. Unlicensed frequencies are often congested and can limit your service capabilities and reach. Utilizing the variety of licensed frequencies available can improves both factors, plus enable your WISP to compete with fiber in terms of capacity. Additional upfront investment, and time to obtain licensure from Federal Communications Commission (FCC), can provide a big pay off. The process for operating in lightly licensed spectrum like 3.65 GHz is relatively quick and easy. Having a licensed backbone or even working exclusively with licensed links whenever possible is worthy of consideration.

Key #9: Use the Tools of the Trade
In addition to the hardware essentials like radios, antennas, and routers, there are a wide variety of software tools and resources for successful WISP operations. Do your research and ask questions of your industry connections to figure out what the best software tools are for your specific business. Using the right software tools, especially those capable of automation, will make your staff perform as if you were a larger team. Utilizing the available resources will inform you and your team in all the business decisions you will make.

Key #10: Choose the Right Partner
You're not in this alone! Your WISP can benefit greatly from having a value added partner that can source products, help with network design, provide technical services and support, offer training, financing programs and more. Find a trusted partner to build a strong, long-term relationship with.
Download Our Full WISP Essentials Guide
Now you've seen the overview, but you can now read the WISP Essentials Guide in its entirety, by clicking the button below. There you can find additional info, insights, and stories from successful WISPs. As the name implies, this guide lays an essential framework for WISPs.
DoubleRadius has also created a WISP Guide for Growth, which can be seen as a part two guide with a bit more "meat on the bones." This second guide we be helpful as you move past the basics and are ready for the next level. Feel free to contact us with any questions as you get started, and we wish you success as a new WISP!