On August 21, 2019, DoubleRadius hosted our "LTE & CBRS Overview: Breaking Down the Complexities" webinar. We've highlighted the main take aways here for those who need a quick review on this timely topic that will soon be impacting the WISP industry on a larger scale.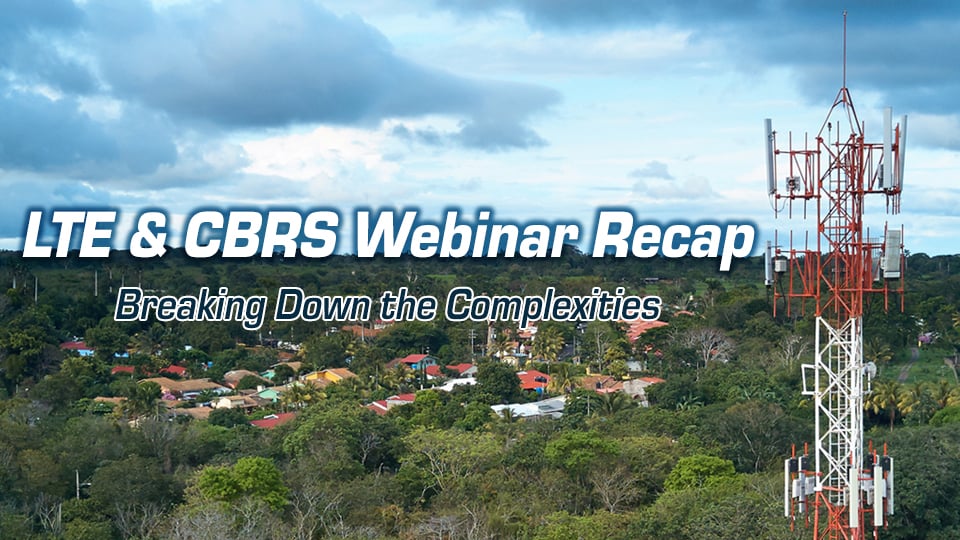 What is CBRS?
The Citizens Broadband Radio Service (CBRS) is the spectrum in the 3.65GHz band between 3550~3700MHz, and is set to be the newest slice of spectrum available to fixed wireless operators. When CBRS is ready for commercial use, it will unlock new opportunities for service providers to reach customers in NLOS (non-line of sight) environments.
How Was CBRS Created?
In year's past, the FCC's Title 47 Part 90 allowed for fixed wireless broadband deployments in 3650-3700 MHz and was referred to as the 3.65 GHz band. This 50 MHz of spectrum was considered "lightly licensed" under the NN License (National License for Entity) and operators were not restricted to a geographical area. An NN License also lacked frequency protection.
In 2010, the talks to develop Title 47 Part 96 or CBRS started. They codified it in 2015. CBRS adds a 100 MHz to the 50 MHz of spectrum under Part 90. The additional 100 MHz was originally designated for entities like the U.S. Navy and earth based satellite stations and was largely going unused.
The development of CBRS was orchestrated by several groups that included the CBRS Alliance and WinnForum. Requirements they enacted are:
3-tiered spectrum authorization framework

Shared spectrum approach

Automated frequency coordinator

15 discrete 10 MHz channels - no splits

3GPP LTE Band 48

Type certifications for equipment


CBRS: The 3 Tiers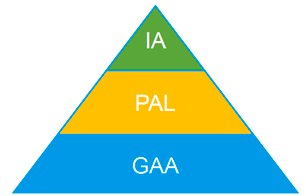 Tier 1: Incumbents (IA)
The defining feature of CBRS will be the 3-tiered spectrum authorization framework. The first priority of CBRS is to protect the incumbents like the Navy and earth stations from interference. To successfully protect the incumbents, ESC (environmental sensing capability sensors) will be deployed along the coastal regions to detect ship-borne radar. Military ship-borne radar 3550-3650 MHz Coastal Regions Military ground-based radar 3650-3700 Limited locations Fixed Satellite Service Earth Stations Wireless Broadband Service (Transition grandfathered) Extensive OBBE Considerations Radar and FSS Locations in resources at end
Tier 2: Priority Access License (PAL)
A PAL is the second tier of CBRS and is more of an exclusive licenses for operators. Licenses are obtained from competitive bidding. The geographic area for a PAL is a county, however, up to seven PALs are allowed per county. This tier only has access to 3550-3650 MHz and there are also performance and usage requirements. PAL auctions will start in 2020.
Tier 3: General Authorize Access (GAA)
GAA is the lowest tier on the CBRS priority list and provides no interference protection. However, coordination to provide coexistence and minimize interference from other GAA operators will be controlled by the SAS (Spectrum Access System). GAA operators will have access to entire 3550-3670 MHz block, subject to Incumbent and PAL activity. There will be at least 80 MHz of spectrum available to GAA participants.
What is the SAS?
The SAS is like the brains and heartbeat of a CBRS network. It protects upper tiers from interference from lower tiers of access. The SAS works by CPIs (Certified Professional Installer) entering the exact location, terrain, transmit power antenna and other pertinent information into the SAS for automated frequency coordination.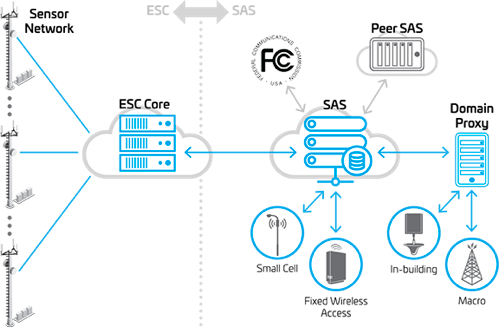 LTE and CBRS
LTE (Long Term Evolution) is a global communication standard developed by 3GPP. The typical LTE deployment for fixed wireless broadband is in rural areas. The technology shines in NLOS environments. Making it desirable for rural deployments.
The implementation LTE in the CBRS band provides several key improvements over Part 90 rules, including:
Higher EIRP

Coordinated licensing and access

Professional deployment enforcement
When Can I Start Deploying in CBRS?
The quick answer is soon. The ICD (Initial Commercial Deployment) is expected to start in September 2019. The ICD is a short time period meant to test the SAS. The full commercial deployment is expected by the end of 2019 after a successful ICD. However, these dates are not set in stone.
Where Can I Find More Info on LTE & CBRS?
DoubleRadius' LTE & CBRS page acts as a portal for updated LTE & CBRS information and resources. In addition to more in-depth descriptions of the CBRS band and the LTE platform, you'll find links to:
Webinar recording of "LTE & CBRS Overview: Breaking Down the Complexities"

CBRS Blog Series with Baicells

Current CBRS vendor

Additional CBRS resources