A network backbone describes the chief support system or cornerstone of your network. In wireless networking, backbone describes a PtP (Point-to-point) link or a series of PtP links that feed bandwidth to the edges of your network. These links are also commonly referred to as backhauls.
Backhauls are the most important links in a network. A problem with your backhaul will affect all the customers that rely on it. Fortunately, the Federal Communications Commission (FCC) has a preventative measure in place. Part 101 sets aside spectrum specifically for fixed microwave services. A part 101 license grantees you a slice of spectrum that no one else in your area can operate on. This means you can operate interference free for the term of your license!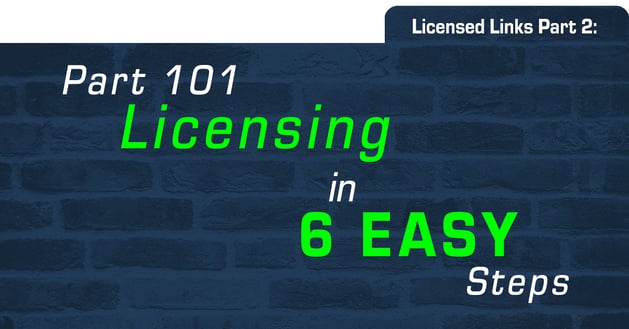 In Part 1 of our Licensed Link Series, "You Might Need A Licensed Link If…," we focused on identifying the types of links that benefit from licensing. For this article, we reached out to Liz Creekmore, an expert on FCC frequency coordination at IntelPath. Liz outlined the FCC licensing process in 6 easy steps and answered frequently asked licensing questions.
The 6 EASY Steps to an FCC License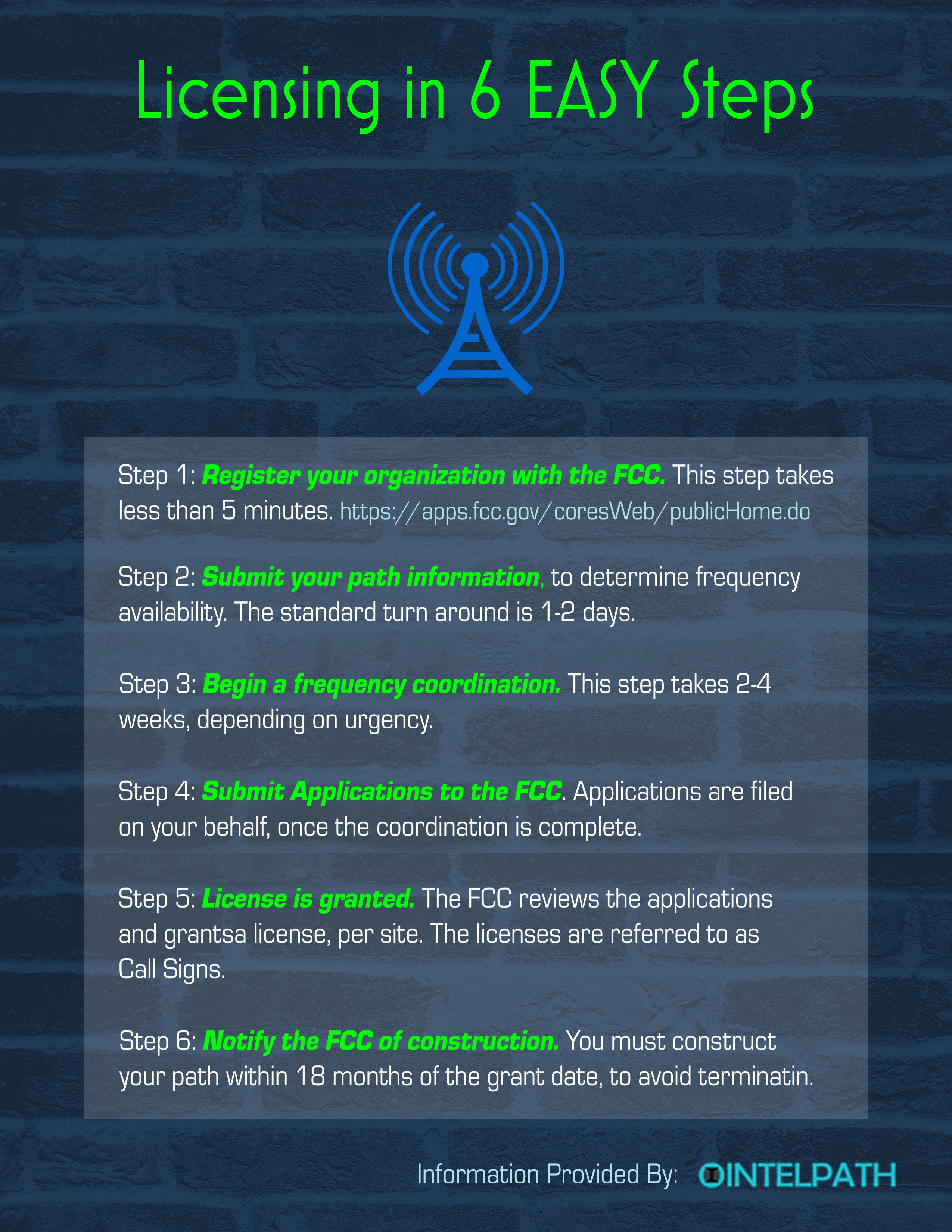 Step 1: Register your organization with the FCC. This process takes less than 5 minutes: https://apps.fcc.gov/coresWeb/publicHome.do
Step 2: Submit your path information, to determine frequency availability. The standard turnaround time is 1-2 days.
Step 3: Begin a frequency coordination. This step takes 2-4 weeks, depending on urgency. FCC Rules & Regulations requires successful frequency coordination, before a license is granted. During coordination, your proposed path is circulated to others operators. The operators are given 2-4 weeks to voice a concern. Conflict resolution during this time is dealt with expeditiously, with an effort to resolve objections within the 2-4 week timeframe.
Step 4: Submit applications to the FCC. Applications are filed on your behalf, once the coordination is complete. Most frequencies & areas of the country allow for Conditional Authorization to Transmit. This means, you may begin transmission, once your applications have been submitted.
Step 5: License is granted. The FCC reviews the applications and grants a license, per site. The licenses are referred to as Call Signs.
Step 6: Notify the FCC of construction. Once you have constructed your path, let us know. We can notify the FCC on your behalf. You must construct your path within 18 months of the grant date, to avoid termination.
Part 101 License FAQ
How does band and channel size affect my capacity?
Channel width and capacity are directly correlated. The wider the channel, the more capacity you will have. Spectral efficiency also contributes to capacity. Spectral efficiency is measured by Bits per Hertz and is different on every radio model. Consult your radios data sheet for the spectral efficiency.
Below are common Part 101 bands. Each band has a maximum channel width.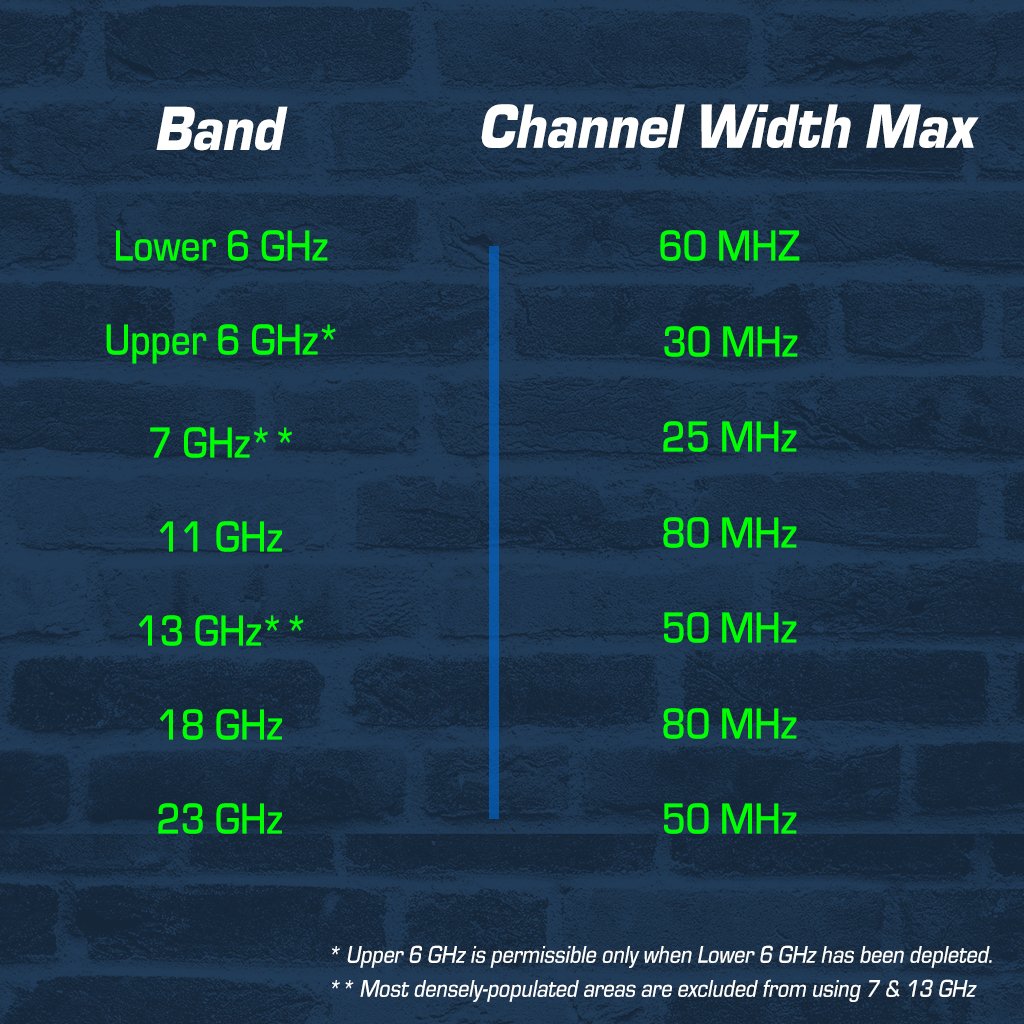 How long is my license good for?
The FCC grants Part 101 licenses for a 10-year period. Prior to expiration, you will receive a notice from the FCC. You will be given the opportunity to renew your license. The cost to renew is equal to the cost of a new license. This cost is revisited by the FCC, annually.
Now that I have my license, I receive copies of coordinations in my area. Do I need to review & respond?
To protect your path from harmful interference, you should review the coordinations. This service can be outsourced to a frequency coordinator at minimal cost.
At DoubleRadius, we have been assisting customers for almost 20 years navigate the complexities of FCC licensing. Our staff is highly trained and we enlist the help of FCC coordinators like Liz at IntelPath to insure the licensing process goes smooth for you!
or learn more about PtP Backhauls