DoubleRadius calls Union County of North Carolina our home, with our headquarters located just outside of Charlotte. As a member of the Union County Chamber of Commerce, we were pleased to participate in the Chamber's Annual Red Carpet Gala, their premiere event held in December.

During their recent Gala, the Chamber presented its annual awards to distinguished members, recognized members who had volunteered throughout the year, and announced the annual Excellence in Business Awards. This year, DoubleRadius was thrilled to learn that we were the recipient of the 2018 Employer of Choice Award!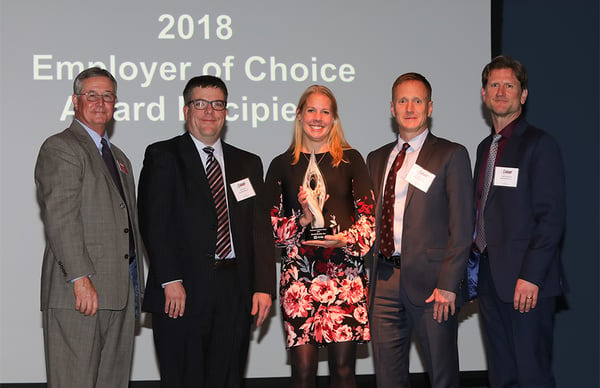 Employer of Choice Award
The Employer of Choice Award recognizes businesses that are committed to:
A world-class workplace for its employees
A place where people choose to work over other competing organizations
Employee wellbeing
Implementing formalized programs to encourage health
Providing a workplace that encourages personal and professional development

During the awards presentation, our team was called up on stage to be presented with the award (pictured above), and the audience was shown a spotlight video featuring DoubleRadius and some of our staff members. (The Chamber had hired a professional video production company to create a video for the finalists in each category ahead of time.)
What Our Staff Had to Say
Below are listed some of the excerpts from the staff interviews including in the spotlight video shown at the Gala:
"Last Spring we had a carnival. They had the outside set up with a big tent...they had bingo, stuff for kids to play on. You brought your family and had a good time."

Buffy, Accounting Team
"I'm able to have my opinions and personality and I don't have to fit into this little box of a corporate world...I can come in and be myself."
Tiffany, Operations Team
"Every division has to work together...so to have that relationship with each other - with management, with operations, with our warehouse team is very important."
Tori, Sales Team
"Our culture is one that balances family life and fun, along with the productivity of the business...we give you the freedom to be who you are."


Gerry, President
About the Union County Chamber of Commerce:
The mission of the Union County Chamber of Commerce is to provide leadership to enhance business growth and the quality of life in Union County. The Chamber provides opportunities to develop meaningful relationships with other members who are potential customers, vendors and referral sources. Additionally the Chamber is a proactive advocate for member businesses on issues affecting legislation and local economic development.
Learn More at:
Union County Chamber of Commerce

#unioncountychamber
@UnionCountyCOC