In the United States, over 16 million people live without broadband. Access to high-speed internet has become critical to those living in rural areas, that are often neglected. Their limited internet access is often slow, expensive and with high latency.
Without access to high-speed internet, many of America's most vulnerable population are at a distinct disadvantage. Businesses have a hard time competing in the modern marketplace, and school children have limited access to information and resources.



Bridging the Broadband Gap
Microsoft ® has come forward to bridge the broadband gap. They believe that the problem is urgent, so they've developed the "AirBand Initiative" to bring broadband to rural areas. Microsoft's ® first expectations were to serve two million customers in 16 states (dark blue below). Recently they have increased their goal to three million people across 25 states, over five years (additional states to be named).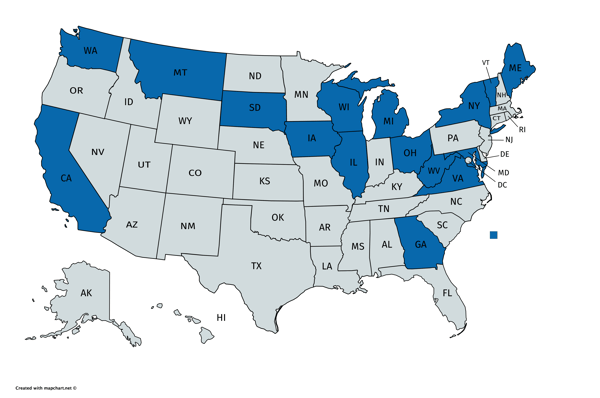 To achieve this goal, Microsoft ® will allow 39 of its patents in various technologies to be used license free. Microsoft ® will also partner with manufacturers like Redline Communications, but also with select Internet Service Providers (ISPs).
Microsoft ® and Redline Communications
Redline Communications offers the leading ecosystem for TVWS technology. Redline and Microsoft ® have been in discussions for more than two years to align visions and layout the initial framework of the Airband partnership.
The benefits of being an Airband member and using Redline's TVWS equipment are:
Redline TVWS Global CAPEX fee is fixed
Redline TVWS OPEX fee is fixed, determined by the country
Over 4 years of field installation experience
Most widely deployed platform in North America MIMO A/B 256 QAM, about 10 bits/Hz efficiency
Best NLOS capacity
Most advanced TVWS solution
High AES-128/256 security
AirBand ISP Program
As Microsoft ® rolls out its Airband initiative, it plans to invest heavily in strategic partnerships with ISPs. These partnerships with Microsoft ® can be very lucrative for ISPs that are struggling to connect customers in rural areas. Some of the benefits include:
Special pricing for

Redline's TVWS equipment
Special pricing for cloud-based billing and operations software
Cloud service and device reseller programs
Digital Skills training and content for your customers

Applying for an Airband ISP Grant
Microsoft ® provides grants to innovative entrepreneurs who are developing technologies or business models that increase internet connectivity and energy access. Grants provide financial support, products and services, access to technical experts, and mentorship.
Service providers that wish to participate in the Airband program are encouraged to visit the Microsoft Airband Web Portal for more information.