When a panel of Cambium product experts recently joined us, we asked them a handful of key questions about their Enterprise solution, and the wireless and wired technologies at work. As opposed to a typical slide deck, we opted for a roundtable discussion format, in order to create a more engaging presentation. This article captures the exchange of questions and answers, and also serves as a resource page with related links, including the full session recording.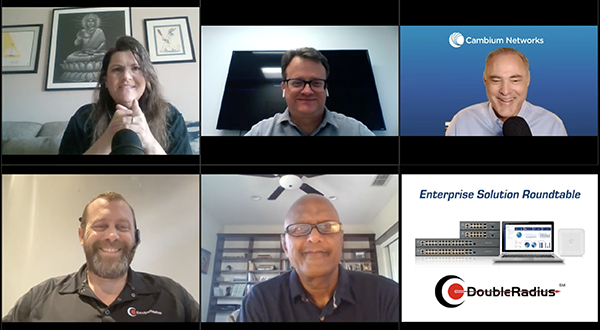 What's a high level overview of the Cambium Enterprise portfolio?
"Enterprise" is a broad topic that describes education, retail, hospitality, small and large businesses, etc. Each has a unique use case with different needs and requirements. The Cambium Enterprise portfolio is diverse, with wireless and wired products specifically designed for the various use cases.
Cambium software has a common code base for indoor and outdoor. This is important for WiFi because it allows the same services and features to be deployed regardless of which wireless Access Point (AP) is being used for a particular Enterprise use case. Another key feature is that the controller intelligence is distributed into the actual APs, so that on any enterprise site the APs exchange information and are "site aware." That is, they are able to make site decisions without requiring an intelligent controller.
The APs connect to switches, which provide the wired connectivity. These are purpose-built, Enterprise-grade, non-blocking, L2/L3 switches - not your typical retail switches that consumers buy for their home. Switches have anywhere from 8 - 48 ports, can be with or without POE, and support up to multi-gigabit throughput and 60W of power per port, for higher end APs and video surveillance cameras.

Cambium's management platform is a single pane of class, showing all the network devices and their performance on one dashboard. Conveniently, the UX and workflows for each portfolio have a unified designed, so that the user doesn't have to learn different processes for APs vs switches. Flexible deployment options include private cloud or on premise. A "freemium" model also allows users to start without a subscription, switching to paid model as their network grows.
What are typical enterprise needs, and how does Cambium's portfolio meet them?

We've talked to a lot of service providers and network architects deploying these solutions, and found a common set of consistent core needs:
Scalability


Simplified Deployment

Affordability
Whether it's school systems, retail, or parents working at home sharing bandwidth with their kids learning virtually, scalability is key today. There are more devices doing more things. We've got new phones coming from Apple and Google; folding phones, flipping phones, WiFi 6 and 6e. Networks need to support all of these devices, and Cambium hardware and software are designed to do just that. Likewise, having a low cost per unit makes the scaling model economically viable.
Cambium's management platform plays a big role in the ease of deployment. Our Swift mobile app services the needs of smaller networks, cnMaestro and cnMaestro X are designed for small and medium enterprise (SME), and our feature-rich XMS-Cloud is for larger enterprises.

Can you explain the concept of an end-to-end network, and how Cambium provides this?
We're really not about selling individual products. What we're really offering is a comprehensive solution for the edge of the customer's network. This is a wired and wireless enterprise solution with a single point of management. The wired component is handled by our cnMatrix switches, whereas the wireless part of the network includes our WiFi APs and our fixed wireless broadband products.
All of this is pulled together by our management platforms. cnMaestro and XMS are cloud and on-premise network management solutions that will manage all of your Cambium products with a single pane of glass. This is management made easy with hierarchical dashboards, automation, and awesome troubleshooting. Automation solves a lot of the things, simplifying deployments. We want to make it easy to deploy and manage devices; to configure them and troubleshoot any problems that might come up along the way.
Can you explain the importance of Policy-Based Automation?
Highly secure networks is also a big demand by customers, so we want to minimize human errors. Statistics say that 80 percent of unplanned downtime is caused by some type of misconfigurations - usually human errors. Automation can resolve a lot of these errors and provide that highly secure network.

We also want to improve network resiliency, minimizing the impact to the network if something does go wrong, and reducing costs by reducing the time and energy put into managing and maintaining the network. So for almost three years now, a key feature on our switches has been policy-based automation (PBA). This is the glue that pulls everything together - the access points that give you the wireless connectivity, the cnMatrix capability with the wired connections, as well as the management.
PBA has been a differentiating factor for Cambium even in a mature market. Our customers love it, analysts are talking about it, and it really makes a difference. PBA provides a true zero touch environment not only for the initial deployment of network devices - the switches the access points - but also a zero touch experience for the day-to-day ads, moves, and changes of network devices. So every time an AP is plugged in (and we can be talking hundreds of APs), PBA handles it all, eliminating the error-prone and very time-consuming manual configurations. When you plug in an AP, that's all you do - physically plug it in. The configuration that is needed on the switch is completely automated.
To further simplify configuration, every port is equal. When plugging in an AP, it doesn't have to be into ports one through five because they've been pre-configured that way. You can plug in the AP into any port of any switch in your network and it will automatically detect and configure that device. PBA also enhances security dramatically. When plugging in a device it will automatically be segmented onto the right network or subnet, or correct VLAN of your network.
There is also another stack on top of that beyond what Cambium provides. You may have incident management systems, professional services automation, remote monitoring and management tools. That can all be tied into the networking stack via a robust set of APIs, web hooks, or streaming data from cnMaestro or other backend services, extending capabilities to deliver business outcomes.
How does Cambium's solution address MSPs & MDU Deployments?

Cambium launched an MSP program, but only after significant research. In the process of conducting 100 interviews and running numerous surveys, we recognized some important things about MSPs and MDUs.

For starters, Managed Service Providers are not simply resellers. They add more value than just selling equipment. They are RF experts at the application layer. They offer some level of guaranteed service in high density, latency-sensitive applications, and WiFi 6 is a key technology for this. In fact, simply using WiFi 6 will increase aggregate throughput by a minimum of 25%, and easily 100%. Unlike previous generations of WiFi, WiFi 6 creates a close coordination between the access point and the clients that connect, providing a significant advantage in efficiency.
Additionally, Multi-Dwelling Units are a broad category with sub-verticals like multi-tenant apartment buildings, strip malls with multiple shopping centers, and senior living. Basically, there's a private space and a public space shared with other other tenants or guests. What's required is a seamless WiFi experience and a highly secure network.
So in developing the MSP program, we broke it down into three parts, designing each specifically for MSPs and emerging MDUs:


Product features and capabilities


Branded MSP dashboard, m

ulti-tenancy,

role-based admin for the device configurations, c

aptive portal, and

ePSK.


Commercial offerings
For example, guaranteed upfront pricing without deal registration.


Industry unique operational benefits
What are Cambium's competitive advantages in the Enterprise market?
A summary of the Cambium Enterprise solution advantages includes the following:
Software Defined Radios (SDRs)
Enables significant upgrades to be handled via software. SDR also helps with the migration from WiFi 5 to WiFi 6, and will help with interoperate between WiFI 6 and 6e. Over the next decade, these technologies will coexist and actually support one another.



Code optimization of

data plane throughput
Moves packets through the AP quickly.


Standards-based beamforming
Works extremely because of coordination between the AP and the client device. It produces more consistency and higher performance vs proprietary methods.


Management Options
Provides flexibility of cloud or on-premise management.


Freemium model
Allows for growth into the more advanced feature set.


Curated app ecosystem
Adds valuable extensions via Cambium's selection of collaborative partners.


Looking for More Info?
Interested in a more in-depth discussion on how Cambium's enterprise solution achieves density and scales successfully? Curious about how Cambium's software defined radios (SDRs) improve performance for legacy devices? Click the button below to watch the full recording of our Cambium Enterprise Solutions roundtable.