Terragraph technology has opened the door for exciting development in 60 GHz wireless, and the Metrolinq Terragraph (MLTG) series from IgniteNet Edgecore is no exception. This offering is an effective and affordable option for service providers to deliver multi-gigabit service and compete with fiber. This article summarizes the advantages of Terragraph and 60 GHz, provides an overview of the MLTG series, plus looks at the main applications of this innovative solution.
Advantages of Terragraph and 60 GHz
A quick summary of Terragraph technology and 60 GHz is in order before diving into the MLTG solution. Terragraph was developed by Facebook Connectivity to solve the problem of gigabit last mile connectivity delivery. They understood that rapid and cost-effective deployment was not going to be possible with incumbent fiber technology, so they sought to pave the path for a wireless alternative.
Their R&D led them to select 60 GHz, as it combines unparalleled multi-gigabit performance with the convenience of unlicensed operation. To the first point, 60 GHz offers vast bandwidth (up to 14 GHz in the U.S., Canada, E.U. and U.K.) and a unique signal-absorbing nature that limits interference. To the second point, the unlicensed spectrum simplifies network planning and helps to minimize costs, enabling the rapid deployment that's uncharacteristic of fiber.
Another advantage of Terragraph it's compliance with the 802.11ay standard, making it adoptable by a broad ecosystem vs. being a proprietary solution. For more information on Terragraph technology, see the first half our recently recorded webinar that includes an overview from Facebook Connectivity.

MLTG Terragraph Distribution Nodes
MLTG-360 is a Terragraph certified distribution node (DN), and is the main component of the IgniteNet Edgecore MLTG solution. The various MLTG-360 models include from 1-4 radios, supporting 90º - 360º coverage options. Each radio of MLTG-360 is equipped with a 256-element beamforming phased array antenna, supporting up to 1.8 Gbps bi-directional throughput.
Models of the the MLTG-360 DN's include:


Beamforming with Phased Array Antennas
MLTG-360 implements phased array antennas to retain the highly directional signal required for 60 GHz. With this beamforming technology, the DN communicates with the client node in a narrow and steerable beam over a wide area. The narrow antenna beam is electronically steered towards each client node without affecting latency, ensuring immunity from spatial interference. Additionally, high antenna gain enables higher uplink capacity over longer ranges.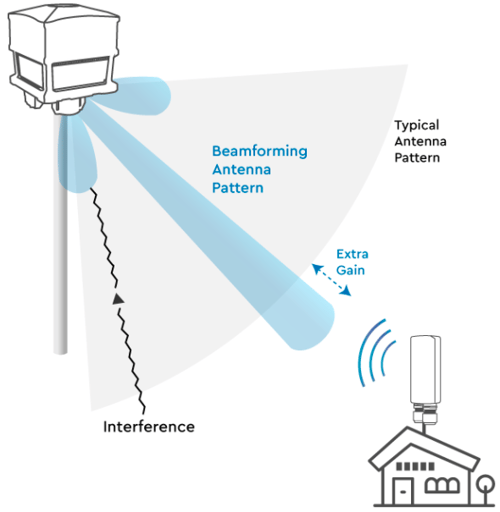 MLTG Terragraph Client Node
Speaking of the client node, the other part of the MLTG solution is the MLTG-CN. This Terragraph certified client node (CN) supports the IEEE 802.11ay standard, to deliver high-speed Internet in a noise-free and unlicensed 60 GHz spectrum. When connected with an MLTG-360 DN, it can function as Customer Premise Equipment (CPE) to provide last mile wireless gigabit connectivity to the client site.


Time-Division Multiple Access
A key feature of the CN is its Time-Division Multiple Access (TDMA) protocol, which enables unprecedented scalability, high throughput and low latency in unlicensed, multipoint networks. TDMA allocates different numbers of time slots per frame to different nodes. This allows bandwidth to be supplied on demand to different nodes, by concatenating or reassigning time slots based on priority. TDMA prevents interference from simultaneous transmissions by separating nodes according to time.
Applications for MLTG Terragraph
Ideal applications for MLTG Terragraph include both backhaul and last-mile access applications, with deployments options including:
Urban deployments connecting multiple MDU'S
High-speed business broadband (

warehouses, office buildings, etc.)

Multi-Gigabit connectivity to rural residential areas
Wifi hotspot backhaul and access
Security network backhaul
Traffic control backhaul
Mobile Backhaul
MLTG-360 DN's can also be used to form rings and build hybrid fiber-wireless networks to extend the existing fiber infrastructure quickly and cost effectively.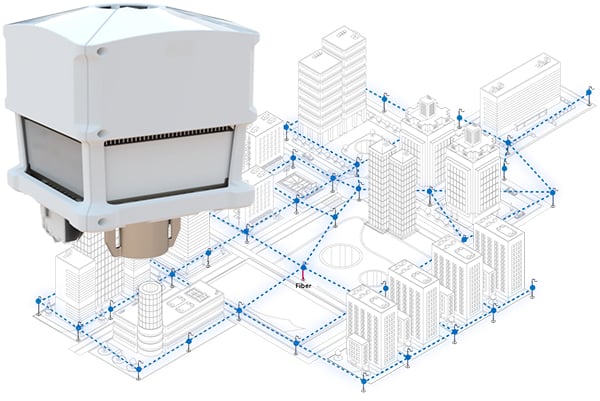 Ignitenet Edgecore MLTG-360 Terragraph Mesh Network Illustration
Last but not least, another important aspect of this solution is that multiple MLTG-360 DN's can easy be formed into a multi-node mesh network (pictured above), allowing for built-in signal re-rerouting to ensure high availability and reliability. The inherent flexibility of the multi-node mesh network provides high network resiliency and service availability, leveraging the self-configuring and self-healing capabilities. The advanced mesh architecture simplifies planning, overcomes range and LoS limitations and enables efficient and low-cost expansion of the network footprint.
Learn More About MLTG Terragraph
Looking for more information on the distribution node radio options, as well as the client node in the MLTG series? To learn more, click the button to below to view all of these items on our website!