Siklu and DragonWave have collaborated to create the market leading fiber equivalent solution that reliably delivers multi-gigabit for miles beyond what was previously possible! The new "Extend18" is a best-of-both-worlds solution that overcomes previous limitations, utilizing adaptive technology with a combination of hardware and software in a single solution. This article explains the Extend18 configuration, how the technology works, what type of performance can be expected, and the practical applications.
What Is the Extend18 Solution?
So how did they do it? Siklu and DragonWave have combined what the each do best to create this innovative solution. Each end of an Extend18 link includes:
10 Gbps

Siklu EtherHaul

TM Kilo E-band radio (71-86 GHz)
1 Gbps

DragonWave HarmonyMC

18 GHz band radio (17.7 - 19.7 GHz)
2 ft

dual-band Siklu antenna

A built-in switch (means running a single cable to the combined dual-link solution)




Enhanced ExtendMM software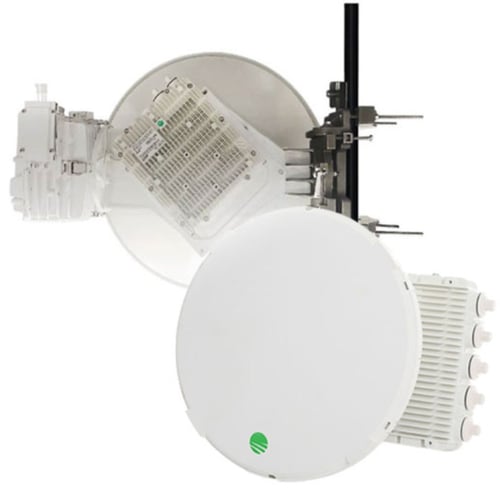 How Does Extend18 Work?
Rain fade has been the main inhibitor of multi-gigabit connectivity over long-range. mmWave links have delivered capacity, but they haven't been able to reach beyond a few miles reliably. Heavy rain can degrade link performance significantly, and the longer the distance of the link, the higher the attenuation will be.
Previous solutions unsuccessfully compromised up-time, or required adding parallel links. They were cost-prohibitive and unnecessarily complex with additional hardware. In contrast, Siklu's Extend18 effectively combines EtherHaul™ mmWave radios with secondary DragonWave radios operating in a lower frequency to create a high-availability, all-weather and long-range connection.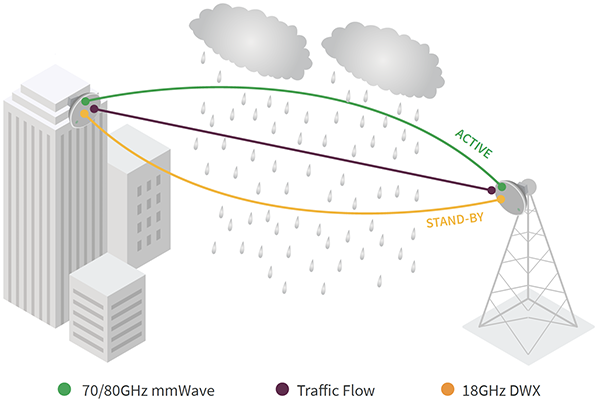 A single click in the EtherHaul™ management GUI turns the two radios into a fully-monitored, high-performance, long-range, multi-gigabit unified link. Multiple Gbps will be available over the interference-free mmWave EtherHaul™ link, while the backup DragonWave link is in stand-by mode. Monitored by the Siklu radio, it will be available for the rare occasions during the year when the mmWave link has issues with inclement weather.
EtherHaul Adaptive Modulation and Advanced QoS
During heavy rains, the adaptive capabilities of the EtherHaul™ are activated, lowering capacity to improve the link budget and maintain the mmWave link. If the EtherHaul™ capacity reaches a user configured low threshold, traffic is forwarded to the lower frequency radio by the built-in EtherHaul™ advanced QoS engine. This action maintains the availability of high priority traffic, and passes other traffic based on available capacity.
Switching the traffic to the secondary DragonWave radios is achieved hitlessly by the EtherHaul™ integrated networking engine. Following the rain incident, the EtherHaul™ link will automatically revert to its previous capacity load with no loss of traffic.
How Will Extend18 Perform?
Pairing DragonWave's lower capacity and longer range frequency bands with Siklu's EtherHaul™ Kilo product family delivers the best of both technologies – high capacity and long range, at an unbeatable price. The result is an ultra-resilient dual-band solution featuring powerful, world class designed radios, delivering up to 99.999% availability at 6 miles (10km) in E rain zone.
Features of this solution include:
Fiber Equivalency - 10 Gbps + 1 Gpbs Backup
Two Independent radios for very high service availability
A single 2ft antenna to ease tower fees and loading penalties
SmartHaul™ Apps, LBC & WiNDE support link performance review, network design
A powerful integrated networking engine
Automatic switching when active link is down
Integrated and easy to use, single click configuration, monitoring and control
In addition, current DragonWave HarmonyMC users can conveniently upgrade to the Extend18 solution.
What are Applications for Extend18?

This Siklu and DragonWave collaboration in technology opens new doors, making the Extend18 an excellent solution for a variety of applications including:
5G Mobile Backhaul and Mid / Front Haul
Leased Line and Fiber Replacement
Last Mile Fiber Extension for High QoS system requirements
Private and Enterprise Networks with low latency requirements
Long-range with high reliability, all at an attractive price point, make it an exciting new option on the market!
Learn about Extend18 Options
Both standard and high power options are available for the Extend18 solution. Click the button below to see the complete part list for each, and to review specifications. For assistance, be sure to contact DoubleRadius with any questions!