DoubleRadius recently took a trip out to Minnesota for a much anticipated field test of the new RapidFire 6-N from LigoWave. Although it was cold and windy, we were able to complete some initial testing over a two week period.
There to help us test out this new 6 GHz licensed backhaul at St. Cloud State University (SCSU) was Alex Hartman from Optimized Media Group (OMG), a full service broadcasting solution provider. Watch the video below to hear what Alex had to say!
The video snapshots below show the RapidFire 6-N radio and the connectorized dish antenna, mounted atop a building on the SCSU campus.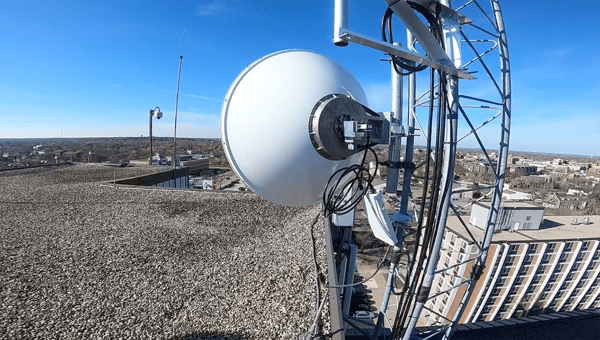 "[The link has been] great! It's been very rock solid, very easy to install - just running."

Alex Hartman, Optimized Media Group


"[The link] never dropped a packet during the two week test."
Jeff Holdenrid, DoubleRadius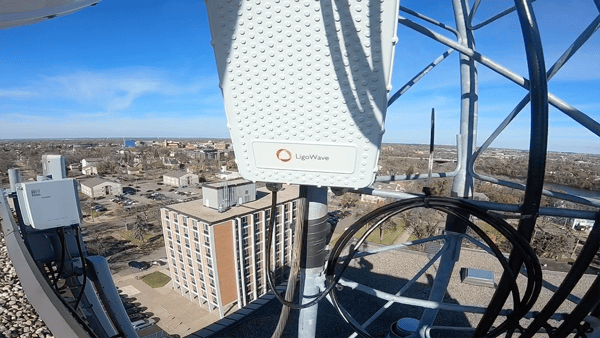 Throughout this preliminary testing period, we were excited to see the link's performance, some of which you heard about if you watched the above video. The RapidiFire 6-N link was able to achieve the following results:
Distance

4.7 mi / 7.6 km
Throughput
400 Mbps - Bidirectional
Channel Width
40 MHz*
Latency
2-3 ms
Packet Drop
None

*60 MHz channels will be available in the production firmware, increasing throughput proportionally.
Applications for WISPs, Broadcasters, and More!
Licensed backhaul allows businesses like yours to offer premium solutions in a variety of applications including:
ISPs - Providing greater bandwidth to support subscriber's streaming demands.
Broadcasters - Ensuring "five 9's" reliability for programming (fiber redundancy or replacement).
Integrators - Delivering d

edicated building-to-building connectivity.

Security & Surveillance - Supporting HD video monitoring and recording.
and many more
An Entry Point for Licensed Backhaul
You may have considered licensed links before, but not pulled the trigger because of price. Although licensed backhaul provides significant performance advantages over unlicensed, cost can be prohibitive. LigoWave designed their RapidFire 6-N with this in mind. This 6 GHz PTP outdoor wireless bridge provides operators a high performance, licensed link at an entry point price level. Utilizing 6 GHz also frees up more 5 GHz spectrum for multipoint, allowing operators to grow their subscriber base.
Interested in Learning More about the RapidFire 6-N?
On Feb 5th, 2019 DoubleRadius hosted LigoWave for an exclusive webinar on their new affordable 6 GHz licensed backhaul, which covers how the new solution:
Extends link range, reaching from 5 miles to >15 miles
Achieves higher throughput than unlicensed links
Empowers users to deliver superb connectivity
Avoids crowded channels
Allows operators to e

njoy the "silence" of 6 GHz -

less noise and interference

Guarantees "grandfathered" protections from rogue Wi-Fi interference, when the FCC eventually changes 6 GHz to an unlicensed band