Fixed wireless is quickly becoming the technology that Tier 1 service providers are embracing to deliver high-speed broadband to their customers. AT&T, Verizon, Windstream and Google have all adopted fixed wireless in the past couple of years to expand their footprint, offer faster speeds and to be able to deploy faster.
Fixed wireless technology has existed for decades, so why are the Tier 1 providers now taking notice? The answer is simple: more bandwidth. Previously, wireless solutions had very limited bandwidth to the end user. In recent years, wireless technology has bloomed and now can offer Gigabit speeds to the customer.
Let's take a closer look at how the Tier 1 providers are using fixed wireless:
Wireless for Cost-Effective, Rapid Deployment
In 2010, Google launched Google Fiber internet service with the promise to bring truly affordable fiber broadband to their customers. Google quickly realized that rolling out an all fiber network would be lengthy and expensive to deploy. The costs and time of rolling out fiber limited Google Fiber's expansion to one metropolitan market per year.
Read more about hybrid fiber-wireless networks
After a few years of high installation costs and even fighting with existing providers over access rights, Google put its fiber projects on hold. In 2016, Google Fiber's parent company bought Webpass, a service provider that was achieving gigabit speeds with wireless. Webpass uses a mix of fixed wireless and FTTX to offer their customers Gigabit speeds.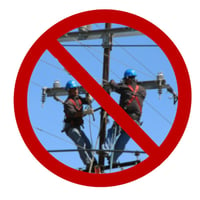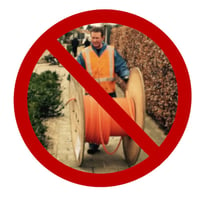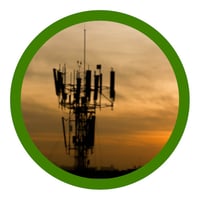 Google now uses Webpass's knowledge of wireless to deploy fast and at a fraction of the costs of an all-fiber network. A simple wireless PtP (point-to-point) link saves Google weeks of trenching and fighting incumbents for access rights. A wireless link costs Google a fraction of what deploying fiber would.
Wireless to Replace Outdated Infrastructure
Windstream has also turned to fixed wireless to serve both business and residential customers. They use PtMP (point-to-multipoint) and install the wireless equipment on the customer's premises. In a recent interview with Telecompetitor.com Windstream's President and CEO, Tony Thomas, said Windstream is currently using the 3.5 GHz band to offer customers 100 Mbps but will soon utilize millimeter technology to achieve gigabit speeds. Thomas argued, "You can get 100 meg out there very cost-effectively. You're blowing away copper infrastructure and making it irrelevant because you're embracing this 100 meg technology".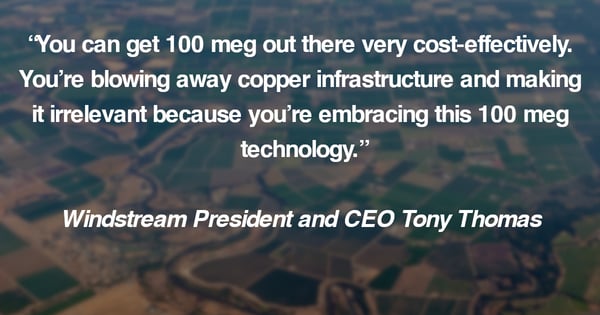 Thomas is also excited about millimeter wave technology. Millimeter technology only works over short distances but is capable of gigabit speeds. It is the optimal technology for connecting customers in the last 500-2000 feet of your networks. Thomas noted, "Over similar distances, copper would only be able to support speeds of 300 to 400 Mbps using bonded vectoring."
Fixed wireless allows Windstream to connect customers faster than their competition that is deploying fiber. It is more cost effective and can be used in both rural and urban areas to deliver 100 Mbps + speeds.
Fixed Wireless for Smaller Service Providers
The Tier 1 service providers are not the only ones that take advantage of the benefits of deploying fixed wireless. In fact, there have been local and regional WISPs (Wireless Internet Service Providers) using fixed wireless for almost two decades. WISPs started gaining popularity in rural areas where the big service providers refused to go because population densities didn't justify the cost.
Fixed wireless is also gaining popularity with utilities and co-ops offering broadband to supplement their revenue. Fixed wireless allows utilities and co-ops to quickly connect customers with internet access while they simultaneously offer other services. In some cases, it is as simple as hanging a radio on a home and connecting it to a tower. However, the technology is complex and can be used for Tier 1 applications and services.
Utilizing fixed wireless solutions in hybrid networks is quickly becoming the "now " of broadband networks. It offers a unique competitive advantage that it is affordable and reliable compared other broadband technology. Fixed wireless allows operators to deliver gigabit speeds without trenching or hanging. No longer do operators have to worry about how to traverse an obstacle like railroad tracks. They can now use reliable wireless technology to go over very easily. This kind of versatility allows innovative service providers to expand and grow with greater success.
To learn more about Hybrid Fiber-Wireless ISPs, download our free quick guide below: