Customer satisfaction and long term loyalty are keys to a WISP's success, and a growing concern among subscribers that WISPs must address is network security. Subscribers expect their service provider to protect them and their families against cyber and privacy threats. This article provides both the backdrop for the security problem, and explains how Minim solves security for WISPs.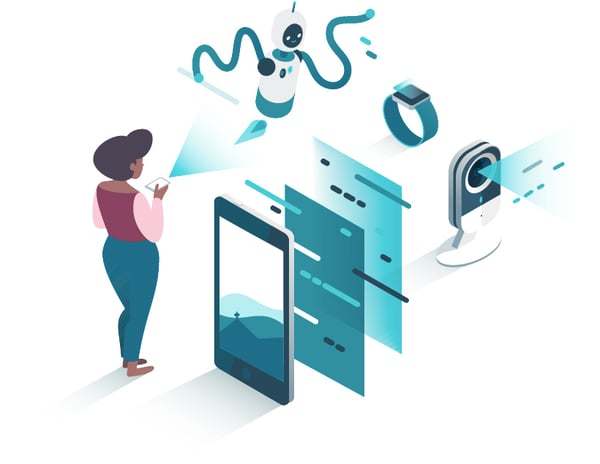 Vulnerabilities from WiFi Devices & IoT Explosion
Security today is more challenging than ever, due in large part to the increased number, and diversity, of WiFi enabled devices. Two main factors are:
Gateway Variability
Customers have three to four generations of equipment (CPEs) in their homes, leading to complex security, firmware, and support management.
IoT Explosion
Homes today have multiple smart devices, including door cameras, smart speakers, interactive appliances, and GPS watches to name a few. These devices lack coordinated and built-in security features that easily identify current security threats. Symantec, one of the leading security companies in the world, estimates that systemic, IoT attacks increase 600% every year.
Minim Answers the Call for Network Security
Minim, a partner of DoubleRadius, has developed a customer support and security solution for service providers that is simple, dynamic, and invaluable. The Minim software, which is loaded on WISP's routers, protects the privacy and availability of subscriber devices.

Minim recognizes that 90% of consumers express concern over security of IoT devices. The company was actually formed in 2017, in response to the 2016 Mirai botnet that crippled the internet. Wired's article. "How a Dorm Room Minecraft Scam Brought Down the Internet" describes how this distributed denial-of-service (DDoS) attack caused the undetected take over of more than 600,000 insecure webcams and other devices, with owners oblivious to the intrusion.
The risks today are only heightening. Recently, the Department of Homeland Security put out an alert about hackers' taking advantage of teleworkers during COVID-19. Although no one can predict exactly what's coming next with bad actors, we can be sure that future hacks will be attempted.
Consider the perspective of Jon Rajewski, Founder, Senator Leahy Center for Digital Investigation and Minim Security Advisor:

".. as IoT exploits make scary headlines, consumers are coming to the realization that endpoint security simply won't cut it. Minim's approach is spot on: comprehensive, AI-driven network-level security."
Minim Provides a Security Center for WISPs
Minim's commitment to credible safety and support is visible in their product today. Their Security Center equips service providers with a holistic, automated, cyber protection solution with unprecedented visibility to tackle network threats. It enables WISPs to build and support secure networks for their subscribers, allowing them to transparently protect the privacy and availability of subscriber devices and personal information.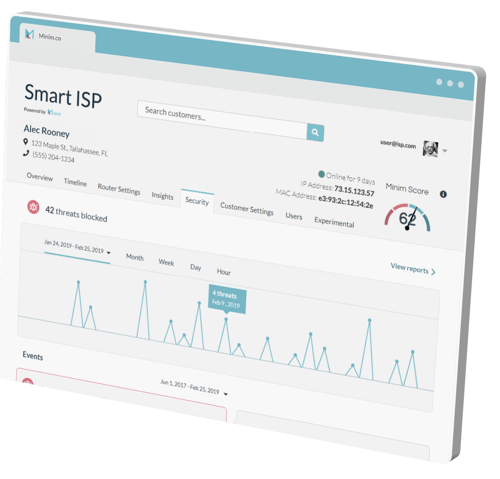 The Minim Security Center allows WISPs to reassure customers with the following security precautions:
Real-time scanning
Identifying unwanted devices joining the network, including ransomware, spyware and known threats.


Subscriber Score
Indicating the overall health of the home network.


Audit Timeline
Giving visibility to network events, including safe and unsafe activity.


Artificial Intelligence (AI) Notifications
Reporting systemic, proactive solutions completed to protect subscribers.


Aggregated insights
Providing analyzed, anonymized threat intelligence data.


Real-time Alerts
Communicating critical security warnings.


Automated Isolation


Preventing damage from devices compromised with malware (botnets, DOS, cryptojacking).
System Hardening
Automatically safeguarding the router itself from attacks and compromises.


Virtual Patching
Protecting legacy devices with firmware upgrades, notifications, or isolation.


Technical Support Playbooks & Templates
Explaining compromises and fixes to agents, and recommendations to provide.


Security Integrations
Enabling collaboration with global cyber vendors on real-time threat intelligence.
As an added bonus, Minim's privacy protection features prevent Minim from looking at personal data, and makes the disabling of tracking and adware possible.
Minim App Adds a Security Blanket for Subscribers
In addition to giving WISPs the needed tools for network security, Minim also adds value to the WISPs by creating further peace of mind for subscribers. Minim's feature-rich Minim app provides subscribers visibility into, and control over their network. Although most features focus on networking performance, these security features are added into the app as well:
Network Score
Assessing network health by monitoring device performance and security.

Parental Controls


Empowering parents to set time and usage limits, as well as auto-safe settings on YouTube and search engine content.
In essence, Minim creates a positive user experience for subscribers. Their WiFi networks will be dependable, controllable, and safe.
Learn More & Get Your Free Minim Consultation
In addition to the home network security features outlined above, did you know that Minim can also help providers remotely manage home WiFi and offer "Virtual Truck Rolls?" WISPs can deliver a better WiFi experience and avoid sending technicians into the home.
To learn more information about the advantages of the Minim solution, read our previous article. Or if you're ready to get specific about what Minim can do for your network, click the button below to schedule a free demo!