Increasing capacity in a wireless network starts with utilizing backhaul radios that reliably deliver greater bandwidth. In scenarios where customer demands require multiple Gigabit throughput, selecting backhaul radios that support these requirements is critical. The question is, how can this be accomplished without increasing costs? In this article, we summarize an exceptional licensed Point-to-Point radio both in terms of capability and price - the ultra high capacity and affordable Zenith X from AL Wireless.
Exceptional Features of the Zenith X
The Zenith X is the 2nd generation of this radio offered by AL Wireless in the U.S. This radio is available in all the current FCC licensed bands (6, 11, 18 and 23 GHz).
Highlights of the radio include:
Modulation: QPSK – 4096 QAM
Tx power up to 27 dBm, ATPC, ACM
Bandwidth up to 112 MHz (up to 240 MHz with ultra-wide channels)
Single Transceiver (ST) or Dual Transceiver (DT) option
Integrated OMT or coupler or dual waveguide output for DT
Stacked sub-carrier operation - doubles capacity without adding hardware
Customer replaceable diplexers
Multi channel operation
Header and payload compression
Symmetric radio link aggregation (RLA)
AES
Stacked Sub-Carrier Operation Doubles Capacity
The Stacked sub-carrier operation referenced above allows two separate FCC channels to run independently on standard single core Zenith X radio. This results is a doubling of capacity without adding any hardware or increasing the cost. This gives the Zenith X a distinct advantage, effectively making a standard single core radio equivalent to most dual core competitive radios.

2X (2+0 XPIX) Configuration


Taking it to the next level, the Zenith X options include a standard single transceiver (one transmit and receive radio) or a dual transceiver. Dual transceivers support an incredible four independent FCC channels in one unit!
The Zenith X dual transceiver model also offers XPIC configuration. The illustration above shows how quad channels are divided into two carriers / channels, each having have two sub-bands - all in a single Outdoor Unit (ODU) connecting to a single antenna.
Advantages of this configuration include:
Lower installation and operating costs
Simplified network requirements
Capability of link aggregation
Automatic Adjustment for Rain Fade
Another feature worthy of further mention is the Automatic Transmit Power Control (ATPC). In simple terms this means that the radios can increase power as they go down in modulation. The practical impact is that instead of a link going down altogether in a rain storm, the radios will adjust in a way that probably won't even be noticeable to the customer, maintaining solid link connectivity. Specifically, the radios will drop will drop back in modulation, slightly lowering bandwidth, but becoming more robust in data transmission. This speaks volumes in terms of link reliability.
Zenith X Applications
The ultra high capacity, reliability, and affordability of the AL Wireless Zenith X make it an excellent option for increasing bandwidth in fixed wireless networks, and as a true fiber alternative. An expanded list of practical applications for the Zenith X include:


Fiber extension, replacement, backup
3G/4G/5G backhaul and seamless transition to 5G
Shared networks
Broadband connections for enterprise customers
WAN/LAN connectivity
Campus connectivity
Video surveillance
Backbones and last miles


Exploring Zenith X In-depth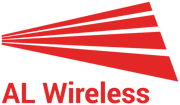 DoubleRadius recently hosted AL Wireless for a webinar that expands considerably on the Zenith X.
Additional information covered in the webinar includes:
Low cost bandwidth keys
Link Aggregation for multi-carrier operation
Ultra-wide channel operation (with comparison vs. traditional radios)
Customer replaceable diplexers
Antennas, power, and interfaces
Sample Bill of Materials (BOMs) for single and dual transceiver models
Learn more about AL Wireless or click the button below now to watch the recorded Zenith X webinar for additional details.