Careful antenna selection is a critical part of effective network design, preventing self-interference and interference from neighboring networks. Simply put, as antennas go, so goes the network!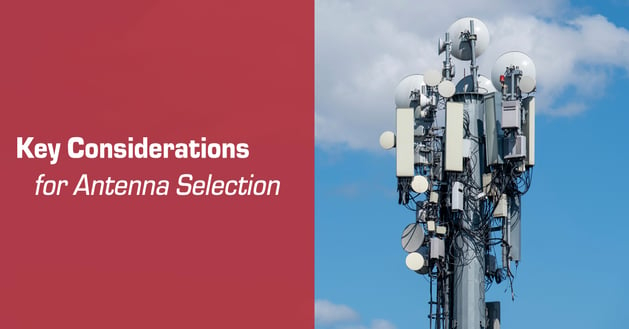 Sector Antenna Considerations
When it comes to sector antenna selection, a few key factors to keep in mind include the following:


Gain Consistency - Gain distributed evenly across the entire frequency range prevents spotty coverage, and allows for the maximum amount of subscribers.


Front-to-Back Ratio - This is defined as the ratio of noise between the front and back of a directional antenna. Key to frequency reuse, and a higher front-to-back ratio reduces interference on opposing APs.


Avoiding Nulls - Nulls are weak signals generated by the antenna at various intervals. Often found near the antenna, nulls prevent customers closest to the tower from connecting.
Additional Opportunities with Horn Antennas
Another option to consider is "horn" antennas, which currently operate in the noisy, crowded 5 GHz unlicensed spectrum. The key features of horn antennas are:
Zero loss adaptors for connectorized radios.


Optimal RF Signature - clean, precise and uniform radiation angles without side lobes.


Designed to reject noise, horn antennas allow service providers to scale and expand into additional environments that may not be possible with standard sector antennas.
Example of WISP Antenna Strategy
Dusty, Director of a Wireless Internet Service Provider (WISP) in Texas, describes their specific strategy for antennas that helps them scale and grow:
"We've developed our own set of rules for antennas. We shoot for no more than eight sectors per tower, and a max of 30 clients per sector. Those customers are connected at three miles out or further. For clients closer to the tower, we utilize horn antennas. We have anywhere from one to two dozen horns on the tower. If we can configure three of the 30 degree horns to cover a certain area, each with 15 max clients, this allows us to reduce the density of clients per AP."
Chapter 6 of our WISP Guide 2019 provides more info on sector and horn antennas, plus additional examples of how WISPs approach their strategy. Download the guide today for additional info on this and other related topics.