Multi-User, Multiple Input, Multiple Output (MU-MIMO) technology helps service providers deliver service to meet subscriber's ever-increasing demands. This allows Wireless Internet Service Providers (WISPs) to capitalize on opportunities for growth that would otherwise go missed. The distinguishing features of MU-MIMO that provide the competitive advantage are the topic of our article, so let's dig in.
What Are the Advantages of MU-MIMO?

MU-MIMO Access Points (AP's) feature ground-breaking spectral efficiency. In comparison to traditional AP's, they utilize sophisticated antennas to communicate with multiple client devices simultaneously in the downlink, in the same channel, with the same channel size. As illustrated below, this effectively produces at least double downlink throughput. MU-MIMO AP's use the same time frame to serve two clients instead of one, with the same throughput.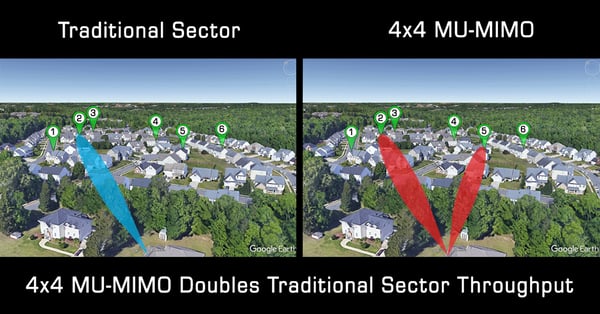 MU-MIMO Getting the Job Done

One WISP example of using MU-MIMO comes from a WISP in Indiana. Their President, Roland, describes their success:


"When our APs reach subscriber capacity, they become good candidates for an upgrade to a MU-MIMO AP. On one tower, some customers were connected via an omni and others were connected on a sector. Once we had the new MU-MIMO AP in place, we could connect all 25 subscribers spanning about 150 degrees, and the sector and omni were no longer needed. MU-MIMO gives us better penetration, enables us to connect more simultaneous customers, and allows us to use wider channels to deliver more capacity."

Going Massive with MU-MIMO
As the name implies, "massive" MU-MIMO takes the technology to the next level. Massive MU-MIMO APs communicate with a larger number of SMs in the downlink simultaneously. Whereas MU-MIMO doubles simultaneous subscribers, massive MU-MIMO can actually increase simultaneous subscribers up to seven times.


One massive MU-MIMO success story comes from Kansas. Jay, Asst. Manager of Plant Operations explains his company's usage:

"We deploy internet service in all forms, but for our rural Kansas customers, we utilize wireless. We initially deployed 3.65 GHz WiMAX, and today that gear is EOL. We've been transferring our LOS/nLOS 3.65 GHz WiMAX customer base over to 5 GHz 'massive' MU-MIMO. This is now allowing us to offer more speed to feed all the hungry customers. We're seeing some APs serving +100 Mbps of capacity to +40 subscribers, and these massive MU-MIMO APs show they still can handle more."

"During our phase-out of legacy EOL 3.65 GHz WiMAX over to the 5 GHz MU-MIMO, we knew that not all customers would not be able to make the cut. We've been testing the 3 GHz massive MU-MIMO (CBRS compliant), and we're seeing great performance within this 3 GHz platform. Our continued 3 GHz MU-MIMO deployment will totally phase out our EOL 3.65 GHz WiMAX."

Chapter 7 of our WISP Guide 2019 provides more info on MU-MIMO and Massive MU-MIMO, plus offers additional insights from WISPs. Download the guide today for additional info on this and other related topics.