DoubleRadius recently hosted our "How to Transition Smoothly to CBRS and LTE" webinar with BLINQ Networks, a radio manufacturer at the forefront of the space. This is indeed a timely topic, with full commercial deployment of the Citizens Broadband Radio Service (CBRS) underway since the FCC's approval in January. This article highlights the key points from the webinar on how BLINQ's portfolio of CBRS devices enables providers to succeed in this exciting new band.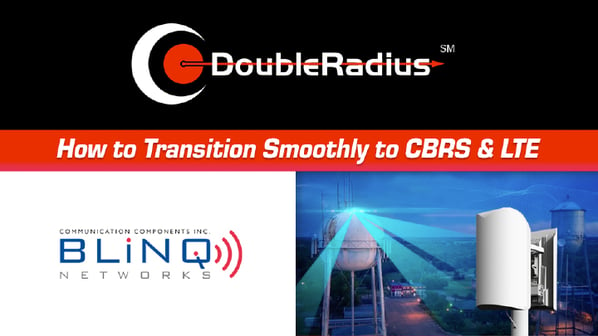 Good Timing with CBRS
The demand for reliable internet access has been underscored in recent months due to COVID-19. People no longer want fast, dependable internet access just to enjoy a better streaming and gaming experience; in many cases they need it to conduct business from their homes, and to equip their kids to learn virtually.
Thankfully, the new CBRS in the 3.5 GHz band now opens the door for providers to step in and deliver connectivity in new and improved ways. ISPs, carriers, and enterprises alike now have an alternative to unlicensed spectrum that is becoming overcrowded and noisy as more and more smaller networks are being deployed.
BLINQ Key Technology Proposition
BLINQ's standards based portfolio fo CPE's, eNODEb's, and EPC's enables providers to deliver service in non-line-of-sight environments and win in the marketplace. Moreover, their products are easy to deploy and easy to scale.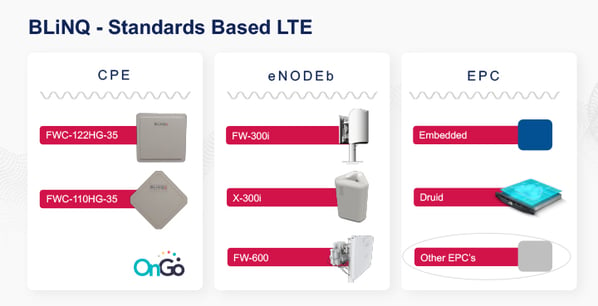 Key advantages of the BLINQ portfolio are as follows:

Designed for Fixed Wireless Access (FWA)
Strong uplink and robust link adaptation for foliage and wind
Evolved power control optimized for BLiNQ CPE's
Multi sector antenna system
Adaptive Antenna System
Variable coverage and capacity focus
Software configurable
Built for CBRS
Full Product Range
500 Mbps X300i to 10Gbps/Site FW600
Covers all use cases by capacity and price ranges
Highest Capacity
3CC (Component Carrier) small cell
3CC per beam/sector
3-6-9-12-18 sector configurations
BLINQ CBRS LTE Portfolio
BLiNQ's flagship LTE product is the FW-300i. This all-in-one integrated EPC puts capacity where you need it, and delivers the best cost per gigabit air capacity in the industry.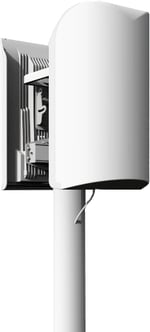 Highlights of the BLINQ FW-300i include:
Low-cost, high performance macro base station with small cell dimensions and small cell price
Adaptive Antenna System
Puts capacity where you need it
Carrier Aggregation support up to 3CC* for maximum deployment flexibility and performance
Completely integrated design, with built-in antennas in a small, lightweight configuration (<10 kgs)
360 Degrees with just two FW300
50 dBm/CC per sector, 2x2 MIMO per sector
96 users per sector, Up to 288 users per FW300
BLINQ for Private LTE Networks
It's also worth noting that that CBRS and LTE can be utilized in various environments outside of the traditional WISP space. Utilizing private LTE networks can alleviate reliance upon traditional WiFi and provide new connectivity options.
Private LTE examples include:
Airports
Hospitals
Hotels
Manufacturing
Municipalities
Ports
Railyards
Public venues and stadiums
Schools and universities
and more
BLiNQ Networks has developed innovative products that can serve as a solution in a variety of environments to provide uninterrupted wireless access where unlicensed spectrum is not a viable option due to interference.
Watch the Full Webinar Recording
Interested in learning more? Our recorded webinar recording can be watched in its entirety on our our BLINQ Networks page. Here you'll find additional information on the way the CBRS band works, and BLINQ products and network management system, and more. Watch our full webinar today!