Ubiquiti Networks' UFiber is an end-to-end Gigabit Passive Optical Network (GPON) solution that's easy to deploy. UFiber gives ISPs and Telcos a cost‑effective fiber optic delivery system for Triple Play Services (data, voice, IPTV/VoD). In this article, we'll take a quick look at the various devices in the UFiber ecosystem, and paint the picture of what a deployment looks like.

Ubiquiti Networks' UFiber portfolio of OLTs and ONUs
UFiber Optical Line Terminal (OLT)
The UFiber portfolio includes six main devices, in addition to the accessories. Chief among those are the Optical Line Terminals (OLTs). The two OLT options are the 8 port and the 4 port versions. These two units are located at your host network, providing connectivity between the UFiber GPON Optical Network Units (ONUs) and the EdgeMAX routing & switching network.
The OLTs provide roughly 2.4 gigs downstream and 1.2 gigs upstream. The 8 port version can handle 1024 users while the 4 port is at half of that with 512 users. Fiber is run from the OLTs into a splitter, and from there on to the GPON ONUs.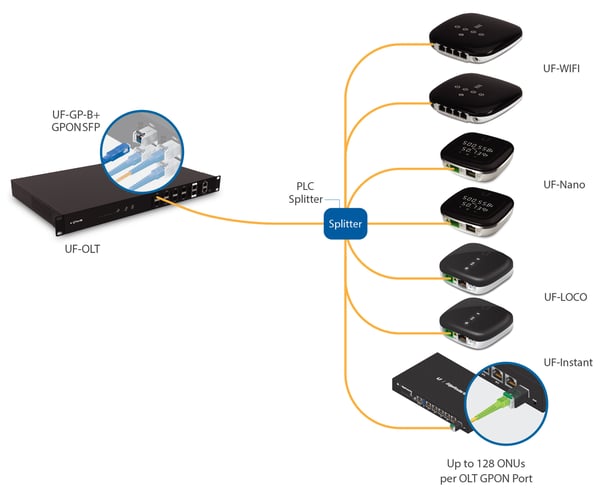 Diagram of Ubiquiti UFiber GPON Network
UFiber Optical Network Unit (ONU)
The UFiber ONUs (aka CPEs) are located at the user network, and there are several options to choose from:
UFiber Nano G
Known for its sophisticated design, it features an LED display so you can actually see how the network is performing. It has an ethernet port so you will be able to connect an AP to it, so you can provide wifi as well.


UFiber loco
This low-cost unit also has extremely low power consumption, allowing it to be powered by 24v passive PoE or a Micro-USB Power Adapter. Like the Nano G, it has an ethernet port in order to connect an AP to it.


UFiber WiFi
Integrated with routing, this unit has 4 LAN ports and wifi, and operates in 802.11n.


UFiber Instant
SFP module form factor that goes into your EdgeRouter and whichever OLT, to connect them at the host site.
Deeper Dive Into UFiber GPON
A great resource for a more in-depth look at UFiber is the recording of our Growing Your ISP with Ubiquiti webinar, hosted in 2019 in partnership with the Federation of Internet Solution Providers of the Americas (FISPA). This presentation focuses on the UFiber series, but also discusses network design strategies for fiber ISPs, wireless ISPs (WISPs), and hybrid fiber-wireless ISPs. (For more on Hybrid networking, see our Hybrid Fiber-Wireless ISP Quick Guide.)
Looking for more information on specific products in the UFiber series? Click through to our site to find the product)s that you're looking for.