Ubiquiti is the global leader in managed Wi-Fi systems, thanks to their UniFi technology. In addition to their innovative Dream Machine, access points, routing and switching, their UniFi family also includes phone, door access, and video camera security products. In this article, we'll take a look at the video camera security platform, aka UniFi Protect.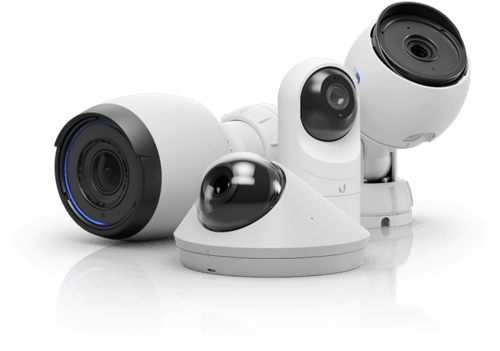 UniFi Protect Platform
Ubiquiti's UnFi Protect is their easily scalable video camera platform designed for convenient monitoring and complete management of multi-camera surveillance systems.
Protect platform advantages include:
Easy Setup
Web Browser Access
Plug and Play Installation
Additional Live Views
Cost-Effective
Mobile App
Protect makes it possible to view up to 20 live camera feeds in a single window, with either basic and advanced templates. Additionally, the new Time Lapse feature allows you to easily scroll through video events and recordings.
The UniFi Protect Controller allows you to set up, configure, and monitor your UniFi video cameras using a graphical user interface. As one of the built-in apps on the Cloud Key Gen2 Plus, there are no separate software, licensing, hosting, or support fees. In fact, its built-in 1 TB HDD allows you to privately store hundreds of events / recording hours.
Comparison of Protect Video Cameras
The chart below offers a quick comparison on some of the key specs of the video cameras in the UniFi Protect series:

UNIFI PROTECT VIDEO CAMERA COMPARISON

Image

Camera

Size

Resolution

FPS

G4 Pro

86 x 153 mm

4k

50

G4 Bullet

86 x 153 mm

2k

48

G4 Doorbell
(see below)

118.3 x 46.8 x 25.8 mm

1600 x 1200 (2MP)

30

G3 Pro

86 x 153 mm

1080p

30

G3 Bullet

75 x 140 mm

1080p

30

G3 Dome

132 x 60 mm

1080p

30

New UniFi Protect G4 Doorbell

The latest exciting addition to the Protect series is the G4 Doorbell. This Wi-Fi video doorbell has a built-in display and real-time two-way audio communication. The video camera features a high-quality 5MP sensor with enhanced night vision, and includes a passive infrared (PIR) sensor for instant motion detection alerts. As noted in the chart above, image streams with the G4 Doorbell can be viewed in up to 1600 x 1200 (2 MP) HD at 30 FPS.
UniFi Protect Network Video Recorder
At the heart of the security system is the network video recorder (NVR). The UniFi Protect NVR is an enterprise device that combines an NVR, the UniFi Protect software, and a 4-drive bay. It unifies enterprise-class data protection and scalable storage with simple Plug and Play integration using the intuitive UniFi Protect software.

You can access your surveillance recordings from virtually anywhere using the intuitive graphical user interface desktop computer or mobile device. The mobile app is available for iOS and Android-based devices.
NVR features overview:
4x HDD 2.5"/3.5" Drive Bay

10 Gbps SFP+ Port

Gigabit RJ45 Port

1U rackmountable (kit included)

Plug & Play UniFi Protect System with NVR

Automated secure RAID 1 or RAID 5 configuration Redundant Power Support
The drive bays are easily accessed from the front panel, so hard drive mounting and maintenance are simple. Using four 8 TB drives in a RAID 5 configuration, the UNVR can provide up to 30 days of 4k video storage for 15 cameras or Full HD video storage for 50 cameras. This can prove invaluable when incidents requiring extended recorded surveillance arise.
Ready to Simplify Security with Protect?
As we covered above, Ubiquiti simplifies deploying, scaling, and managing video camera security networks. A variety of innovative camera options help to meet your specific surveillance network needs.
Ready to put UniFi Protect into action? Use the chart above to link to a specific camera, or link below to review all of the UniFi Protect products and accessories.