Cell on Wheels or "C.O.W.s" are an ingenious way to provide immediate temporary internet connectivity at remote sites. These mini mobile cell towers can be moved from location to location, creating reliable connectivity where otherwise impossible. Take a peak at this use case for a custom C.O.W. solution that DoubleRadius recently designed for a client, and learn how this might be an ace up your sleeve for future applications!
About the Client
This U.S. industrial client has a series of collocated plants where salt is mined and petro chemicals solutions are processed.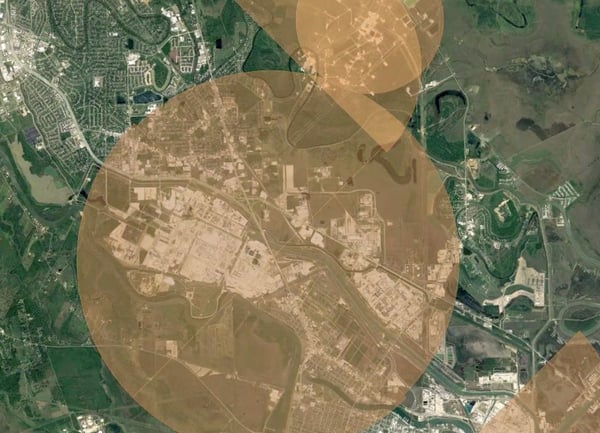 What Problems Needed to Be Solved?
The client requires connectivity all throughout their property so their staff can document their work, and their spotty 3G/4G coverage was making asset tracking unreliable. The multitude of sites requiring broadband connectivity includes drills, positions along the pipelines, and industrial blocks undergoing "industrial turnaround." (This refers to temporary shutdown for sandblasting and re-galvanizing of steel.)
Overview of Solution
DoubleRadius reached out to one of our nearby Wireless Internet Service Provider (WISP) customers to provide a high capacity wireless backbone to this industrial client's location. On site, fixed wireless towers across the property were equipped with Cambium 450m "Medusa" multipoint radios. Workers were then able connect to these towers from their drill sites and positions along the pipelines via a fleet of 12 solar powered C.O.W.s, allowing them to document their work.
About the Cell on Wheels (C.O.W.)
These C.O.W.s are actually mini mobile towers that are mounted on trailers. The towers outfitted with Cambium 450i Client Premise Equipment radios (CPEs) and Cambium cnPilot e700 Wireless Access Points (WAPs).
To create the C.O.W.s, DoubleRadius first determined which masts and mill spec trailers to use. From there, we custom built the mounts and installed the radios. The CPEs were actually configured with a special GPS auto-alignment device. Lastly, we added solar panels. We actually built two models: a a taller version with a 60 feet mast and a shorter version extending 30 ft.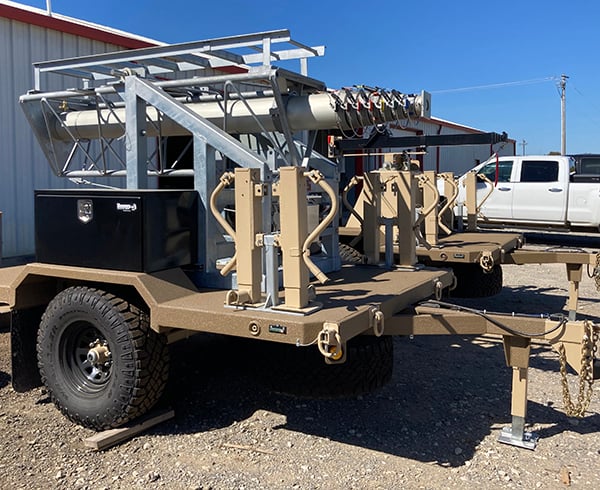 Taller C.O.W. with 60 feet mast in front; shorter C.O.W. (black mast) in back.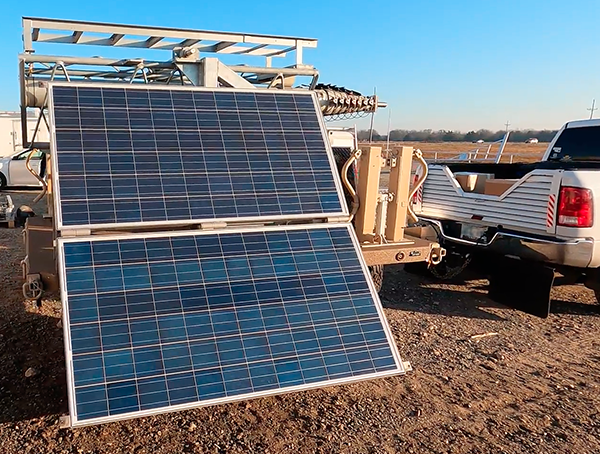 Solar panels can be unfolded once parked at remote location.
Workers drive their vehicles, trailing the C.O.W.s behind, to anywhere on the property that Cambium's cnHeat tool indicates they can get coverage from. The CPEs auto-align and connect to the multipoint radios on the fixed towers. Then the WAPs provides a reliable, private, secure broadband network for the workers to connect to at their remote site.
For industrial turnaround, eight C.O.W.s were set around the block perimeter, spanning the size of several football fields. This provided connectivity for the team to communicate and document work, without needing to install devices inside a hazardous environment. This process will be repeated constantly throughout the year, moving to a new block every few days.
What's Next for the Client's Wireless?
The client initially came to DoubleRadius asking for help with WiFi connectivity. This current design of fixed wireless combined with fleet of mobile C.O.W.s provides an immediate solution for the reliable coverage and required throughput. Long-term, DoubleRadius is designing a plant-wide WiFi solution built on 60 GHz - 80 GHz backhaul and 5 GHz mulitpoint fixed wireless.
How Can You Utilize this Solution?
As described above, this industrial client utilizes the solution for the specific purposes at their plants. But at its core, this is a temporary solution enabling internet connectivity at remote sites. This type of rapid deployment solution can be broadly applied for WiFi and Video surveillance transport in:
City/county government
Public safety
Disaster recovery
Fairs and events
Any situation requiring temporary service where coverage is spotty or non-existent
Need a Custom Solution?
DoubleRadius recently celebrate our 20 year anniversary, and the RF knowledge and experience we've accumulated through the decades is at your disposal. Whatever your specific wireless needs are, we've got you covered. Let's talk about the requirements for your next wireless network or project!