Deploying a microwave licensed link (backhaul) is a large investment and requires more planning than unlicensed backhauls. In part one of our Licensed Links series we covered scenarios that benefit from licensing and in part two we covered the steps to obtain a license. In this third article, we'll explore the equipment the FCC requires for licensed links, and additional gear we recommend for success.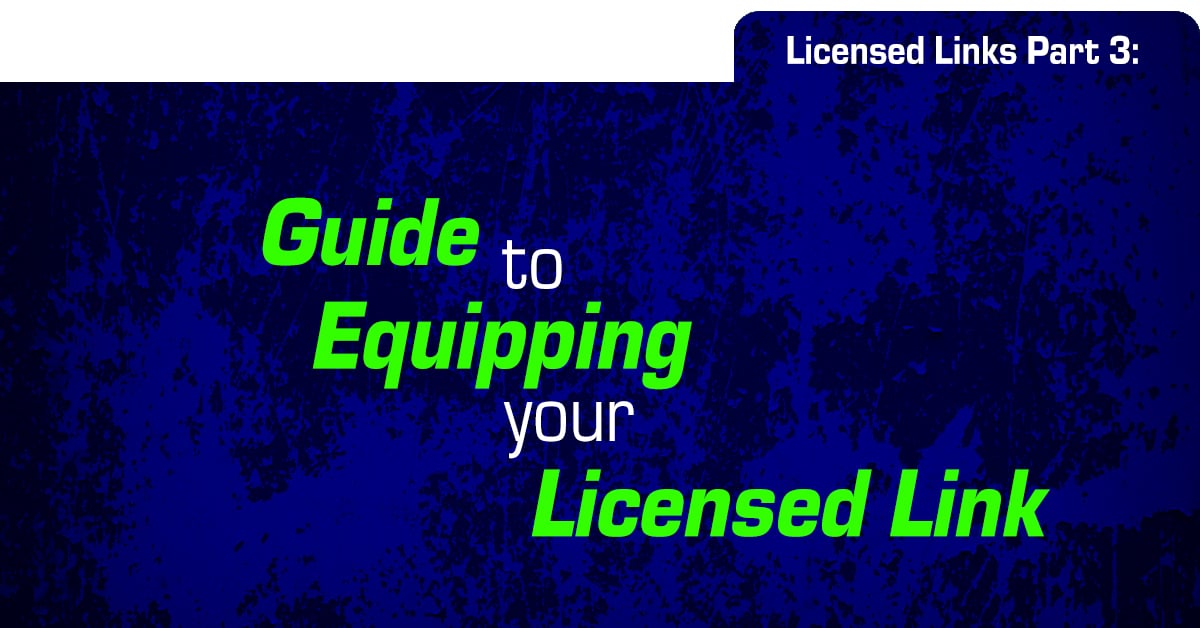 What Equipment Do I Need?
For the purposes of this article, we'll focus on all outdoor licensed backhaul, as it's the most common. An all outdoor backhaul has two main components. A connectorized radio and an antenna. You'll also need various cables, connectors, surge protection, and power supplies.
Radio Selection for Licensed Links
The radio is one of the most important parts of your link. If a radio goes down, so does your link. Radios go through comprehensive testing for FCC approval and last for years. The most important features to consider when purchasing your radios are:


Spectral Efficiency


Much like cars, some radios are more efficient than others. Instead of rating efficiency in miles per gallon, radios use bits per

hertz

to determine efficiency. Spectral efficiency in wireless communications refers to the number of bits that can

be transported

in 1 MHz of spectrum. The more bits a radio can deliver in 1 MHz of spectrum the more efficient it is. There is a finite amount of spectrum available and every

little bit

of efficiency helps!

(Pardon the pun!)




QAM


Quadrature Amplitude Modulation (QAM) is difficult to explain in a paragraph. QAM affects the spectral efficiency. The higher the QAM a radio can achieve, the higher the spectral efficiency will be. QAM also helps keep a connection in adverse environments. If weather or interference becomes an issue, then the radio will modulate down to keep connected. When conditions clear, the radio will go back to full modulation. Without QAM, the connection would fail until conditions cleared. If you are interested in an in-depth explanation, National Instruments has a great QAM artcile.



Transmit Power


The transmit power measures the amount of RF energy a radio can produce. The higher the transmit power, the less gain you will need to amplify the signal. In some scenarios this will reduce the size of antenna required. Different radio models have different transmit power. Be sure to check the data sheet for the radio model you are considering for transmit power specs.




Multi-Core


Multi-Core

indicates

that it encases two or more radios one unit. This gives you the capability to increase your capacity without increasing your footprint. Additional cores can be active immediately, or saved for when you need extra capacity.




Spatial Diversity
You'll only need to be concerned

with Spatial Diversity for links in an environment with multipath interference, such as links spanning over water. Multipath interference happens when a radio receives the same signal from two or more paths. Spatial Diversity uses two antennas connected to one radio to mitigate multipath

interference,

and is only available on certain models.
These are other important features to consider, but the list above has the ones we believe are key. Each model of radio has its own pros and cons.
Examples of Licensed Links
The chart below lists some examples of the licensed links on the market, and the frequencies in which they operate:
| | | | | | | |
| --- | --- | --- | --- | --- | --- | --- |
| | Ubiquiti Networks | Cambium Networks | SAF Tehnika | Mimosa by Airspan | BridgeWave | LigoWave |
| 6 GHz | | ✅ | ✅ | | ✅ | ✅ |
| 11 GHz | ✅ | ✅ | ✅ | ✅ | ✅ | |
| 18 GHz | | ✅ | ✅ | | ✅ | |
| 23 GHz | | ✅ | ✅ | | ✅ | |
Antenna Selection for Licensed Links
The antenna is the second integral piece for your licensed backhaul, and the FCC regulates antennas them as they do radios. The two most important features to consider when purchasing your antennas are:
Frequency
You will need an FCC approved antenna that supports the transmit frequency.


Size


The larger the antenna, the more gain it will have. The distance of the link, reliability requirements, and frequency will factor into the size of dish required. Licensed antenna manufactures include:



| | | | | | |
| --- | --- | --- | --- | --- | --- |
| | Ubiquiti Networks | Cambium Networks | RadioWaves | Andrew | SAF Tehnika |
| 6 GHz | | ✅ | ✅ | ✅ | ✅ |
| 11 GHz | ✅ | ✅ | ✅ | ✅ | ✅ |
| 18 GHz | | ✅ | ✅ | ✅ | ✅ |
| 23 GHz | | ✅ | ✅ | ✅ | ✅ |
Licensed Link Accessory Selection
The radio and antenna get all the credit for a successful link. However, just as a successful movie has a crew behind the scenes, a license backhaul needs supporting accessories. The radio will have to brave the harsh elements for many years, so it's important to consider the quality of following accessories:
Cables
Shireen

makes great fiber, CAT5e, CAT6 and power cable for outdoor deployments. We recommend shielded UV rated outdoor cable like

Shireen's

DC-1021

. Get more information on

Shireen

.




Weatherproofing
Water and electronics do not mix! That is why we recommend Gamma Electronics

for weatherproofing. Gamma Electronics'

cold shrink creates an IP-67 seal with no tools. (See how easy it is to use in the video below.)





Gamma also offers jumper cables that come with 2 sleeves of cold shrink for extra protection.


Battery Backup


Power failure is a certainty. Depending on your location, it may happen frequently. Your reputation rests on providing 24/7 service to your customers, even when the power fails. We recommend at least a few hours of battery backup.



We carry a full line of Tripp-Lite UPCs that will automatically power your radios when the power fails. Our DoubleRadius account managers are trained to find the correct UPC for your needs.


Grounding and Surge Protection


Ben Franklin needed a key and a kite to get struck by lightning. Your equipment doesn't. Towers are naturally taller than their surroundings and made of metal. This makes them highly attractive to lightning. Proper grounding protects your equipment from lightning by acting as a channel for the current to travel.





Surge protection is also a necessity. When lightning strikes your equipment is vulnerable. We recommend two high quality surge protectors that can handle repeat strikes. Lightning is unpredictable, so it is necessary to have a surge protector at the top of the tower and at the bottom.
Need Help with Your Licensed Link?
Most manufacturers offer either free link planning services or software, including these listed below:

You don't have to be an RF engineer to deploy a licensed backhaul. However, you may need some assistance. DoubleRadius has a free Licensed PTP Configure & Quote Form to help you get organized. Fill out the form and one of our sales engineers will review with you, helping you have success with your licensed link.